Bair Island
---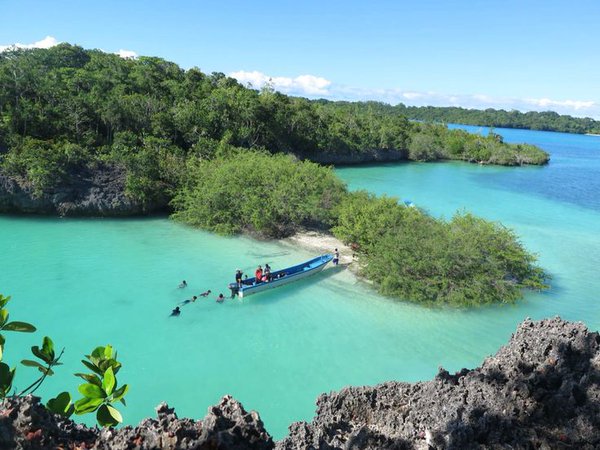 Tual city is located in Maluku and near to Southeast Maluku regency which is famous for the fine white sand beach, Pasir Panjang or Ngurbloat Beach. In addition to the popularity of Ngurbloat beach, Tual is also has Bair Island.
Bair Island is a unique island with typical of tropical island. It is a small island with million charms. One of the uniqueness is coming from the two bays with crystal clear water and calm sea, mangrove vegetation and rock cliffs. At first glance, Bair Island is similar to Raja Ampat Papua but on a small scale. Bair Island is also a home for baby shark types Blackpit.
To get to the Bair Island is quite easy. We can start the trip by land from the city center to Dullah Darat village with less than 30 minutes' drive, by using 2 or 4 wheeled vehicles. We can also use public transportation to the village Dullah from the public transportation terminal in the ship port at Tual city. After arriving at Dullah Darat port / harbor we continue the sea trip by using speed boat, for Bair Island is located at the end of island series in the Dullah Laut Village. It takes approximately 1 hour drive.
In Journey to the Bair Island we will pass several small islands, one of which is Adrenan Island. Adrenan Island is a small island covering an area of 500 m2 with the fascinating fine sand beach and the beach sand line that shifted to the east the because of the seasonal changes from east to west, and vice versa. Adrenan Island is suitable for those who like to play at the beach water and take some pictures.
After passing several islands in Dullah Laut Village we will arrive at Bair Island and will be immediately treated by the rock cliffs that surrounding Bair Island and if we are lucky we will be able to see baby shark Blackpit. After arriving in Bair Island bay we will be served by the majestic of high cliffs and some rocky cliff in the middle of the bay. When the sea is receded we will find some beaches that can be visited because it is not covered by sea water.
There are tips for friends who want to visit this island; bring sunblock, food and drink in moderation and do not forget to bring the litter back home to keep the beach clean. The best time to visit Bair Island is in the East spring or during the changing seasons from East to West or in vice verca. It precisely can be visited during March to August. Because the sea is calm and the waves are small.

Latest News
The Martha Christina Tiahahu Monument is located in the Karang Panjang area, about 10 minutes from downtown Ambon. Because the location of the monument is at elevation, the tourists can watch the sparkling expanse of Ambon City glittering at night. From this place, the high seas can be seen clearly. We can see the view of Ambon City. This location is usually used as an alternative place to enjoy the relaxed atmosphere, especially young people who want to enjoy the view of Ambon City. Historically, Martha Christina Tiahahu grew up…
---
Benteng Belgica or Belgica Fort is a heritage fortress from Portuguese that been built in Bandaneira, Maluku Tengah. Bandaneira is a small town that also a heritage city from Portuguese and Duch colonization. This city became important city for Dutch and Portuguese since it produce some of important spices. Since Bandaneira was the center of trading, then the building of fortress is need to be built. This fortress was also play the role as a prison and the place for keeping the gun. At early begin, Belgica was named as…
---
Beaches in Ambon are known well for their beauty. The visitors are not as crown as those who come to pulau Bali or Lombok, but that makes beaches in Kota Ambon still in original and natural condition. One of the favorites is Hunimua Beach. Though the facilities are yet not complete. This beach is also known as Liang Beach for it's located in Liang village, Salahutu sub-district, Central Maluku district, Maluku Province. UN has stated this beach as the most beautiful beach in Indonesia in 1990, and always been target…
---
Village of Sawai, Maluku, is one of destinations in the Manusela National Park. The waters are calm and clean. This tourism village has the same beauty with other islands in Indonesia. This village is famous for its beaches and sea. Most of the sea in the this village is still natural and well preserved. Sawai village is including the oldest villages in Maluku and it has several small islands surrounding it. These islands are also adds to the beauty of the Sea of ??Sawai. What is unique of this village…
---