Maluku Province
---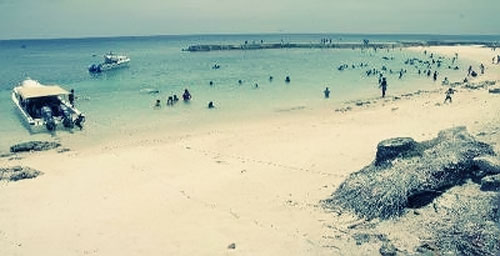 Maluku or Moluccas is one of Indonesia Provinces that lay on Maluku Islands. The main city and the capital city is Ambon. Maluku is culturally and geographically associated with Melanesian.
In 1999, Maluku was divided into North Maluku Province. Maluku ethnic is dominated by the Pacific Melanesian tribes, who were allied with Fiji, Tonga, and some of the islands which is spread all over the Pacific Ocean islands.
Some proves are shown that Maluku has ties with the traditions of the Pacific Islands nations, such as language, folk songs, food, and household devices, and special instruments like Ukulele. Formerly, the indigenous has brown dark skin, frizzy hair, has strong bone, and has more athletic body than any other tribe in Indonesia, because they are an ethnic islands that have to be sailing and swimming, especially for their Men.
Nowadays, there are lot of Maluku people have immigrated to other country like Dutch, English, United States, Russia, France, Belgium, Germany and many other continents. At first, they were moving in case of classical reason, which is the mass movement of Maluku to Europe in 1950s, others are about having study, marriage or just finding the better life.
The language that being used in Maluku is mostly coming from Bahasa Melayu Ambon, which is the Malay dialect and some of local languages divide based on the local area. Bahasa Indonesia is still the mother tongue to communicate.
Christianity and Islam is the most religion that being hold by the people, This is because the influence of Portuguese and Spanish colonization before the Dutch who had been spreading Christianity, and the influence of the Sultanate of Ternate and Tidore that spread Islam in the Moluccas and Arab traders on the coast of Ambon and surrounding islands.
Looking from the economic side, especially from Ambon, is coming from their cassava and sago as their main crop which also include breadfruit, sugarcane, coffee, cocoa, pepper and cotton. Nutmeg and cloves were once the dominant export crops, but they are now produced in limited quantities.
Beaches are the most tourism object after the historical sides that Maluku have for their tourism commodities. There are lots of beautiful beaches over the area of Maluku, all beaches are grounded with white sand and blue sky background.

Latest News
The Martha Christina Tiahahu Monument is located in the Karang Panjang area, about 10 minutes from downtown Ambon. Because the location of the monument is at elevation, the tourists can watch the sparkling expanse of Ambon City glittering at night. From this place, the high seas can be seen clearly. We can see the view of Ambon City. This location is usually used as an alternative place to enjoy the relaxed atmosphere, especially young people who want to enjoy the view of Ambon City. Historically, Martha Christina Tiahahu grew up…
---
Benteng Belgica or Belgica Fort is a heritage fortress from Portuguese that been built in Bandaneira, Maluku Tengah. Bandaneira is a small town that also a heritage city from Portuguese and Duch colonization. This city became important city for Dutch and Portuguese since it produce some of important spices. Since Bandaneira was the center of trading, then the building of fortress is need to be built. This fortress was also play the role as a prison and the place for keeping the gun. At early begin, Belgica was named as…
---
Beaches in Ambon are known well for their beauty. The visitors are not as crown as those who come to pulau Bali or Lombok, but that makes beaches in Kota Ambon still in original and natural condition. One of the favorites is Hunimua Beach. Though the facilities are yet not complete. This beach is also known as Liang Beach for it's located in Liang village, Salahutu sub-district, Central Maluku district, Maluku Province. UN has stated this beach as the most beautiful beach in Indonesia in 1990, and always been target…
---
Village of Sawai, Maluku, is one of destinations in the Manusela National Park. The waters are calm and clean. This tourism village has the same beauty with other islands in Indonesia. This village is famous for its beaches and sea. Most of the sea in the this village is still natural and well preserved. Sawai village is including the oldest villages in Maluku and it has several small islands surrounding it. These islands are also adds to the beauty of the Sea of ??Sawai. What is unique of this village…
---