Tarusan Kamang Lake in Agam Regency, West Sumatra Province
---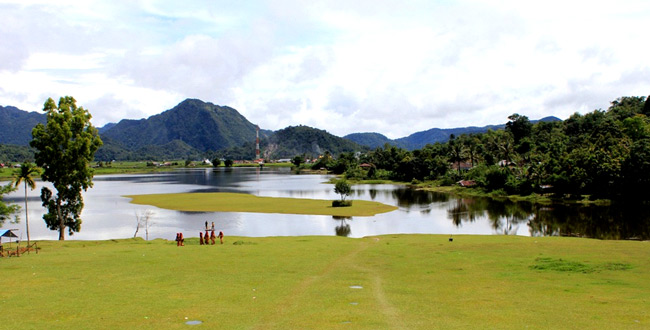 Many vacation spots await tourists in Agam Regency. The region has become one of West Sumatra Province's greatest tourism contributors, after all, aside from Padang City, Pesisir Selatan Regency, and Mentawai Archipelago. Here is an example. Agam has Tarusan Kamang Lake, which becomes a good alternative to spend a family recreation and hanging out with friends. So, where is it? The lake is located in Kamang Mudiak Village and belongs to Kamang Magek Sub-District. One thing that makes it different than other lakes is the water capacity. At some time, it has full water. On the other hand, the lake turns into a green savanna during a special time!
The Nuance
Surrounded by green grassy landscapes and trees, the lake indeed offers a soothing ambiance. In the midst of the lake, there is an accessible small grassy island too. Tourists can get there by riding a raft or small boat. Well, as mentioned before, the lake loses all the water sometimes. It turns into a vast savanna instead. This is why visitors can enjoy two types of nuance on the site depending on the time of the visit.
Exploring Tarusan Kamang Lake
For the information, Tarusan Kamang Lake is a wide field used by the locals for herding. However, during the rainy season, water starts pilling up and creates a beautiful serene lake. According to the locals, it takes much time for the water to dry up. As for tourist activities, visitors usually want to spend a family recreation by rolling out a mat on the grassy land and conduct eating together. Eating good foods with family members while watching a stunning lake is quite satisfying, isn't it?
The next common thing to do in Tarusan Kamang Lake is sightseeing or photography. Tourists can simply use a digital camera and collect some photos on the site. These include the lake itself, the small island, other visitors, and nature. For the best experience, everyone should rent a raft or small boat in order to reach the small island! In that spot, they may find a lonesome tree, which often becomes a background for photography. Thus, don't forget to take some pictures of it later.
Most tourists indeed visit Tarusan Kamang Lake when it is filled with water. However, some people choose to come to the site when the water is dried out. They want to see the exotic savanna at the time, after all. Not to mention they can see lots of locals who conduct herding in that area. Somehow, this atmosphere is worth some photo shoots as well!
Nearby Attractions

Tehburai Kotorantang
Sonsang Village
Raflesia Arnoldi Park
Banto Royo
Puncak Binu
How to Get There
First, tourists need to head to Padang City, which is the capital of West Sumatra Province. From Jakarta City, in this case, a flight from Soekarno – Hatta International Airport to Minangkabau Airport would take around 1 hour and 40 minutes. Later, from Padang, they can take Maninjau – Lubuk Basung Street and head to Agam Regency. The distance is 109 km, so this trip may take around 2 hours and 15 minutes. From Agam, they can directly head to Tarusan Kamang Lake by taking Padang Lua - Maninjau Street. The distance is 53.8 km, so the trip would take around 1 hour and 51 minutes.
Where to Stay

Pakankamih Guesthouse
Kompphil Guesthouse
Parai Mountain Resort