Taman Raya Balingka in Agam Regency, West Sumatra Province
---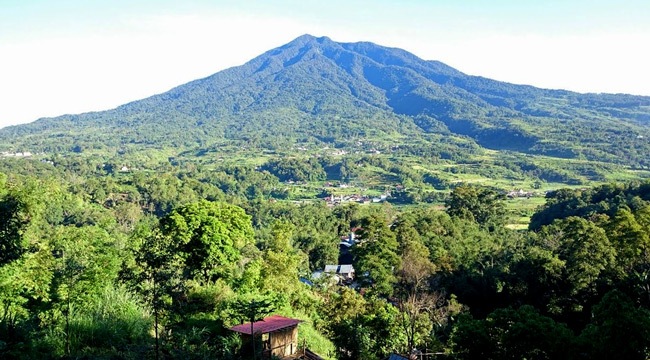 Perhaps many tourists have heard the famous Bogor Botanical Garden. Still, Agam Regency also has a similar place called Taman Raya Balingka or Balingka Botanical Garden. As the name suggests, it is located in Balingka Village and belongs to IV Koto Sub-District. One thing that makes it unique or different than other botanical gardens is the location. The site resides on a hill called Jorong Subarang. Thus, it offers a beautiful panorama, comfy atmosphere, and great landscapes! It is true that the site was once shut by the local government. Fortunately, it reopened for both locals and tourists.
The Nuance
As mentioned before, the location is on the highland. That means Balingka Botanical Garden features a chilling atmosphere up there. From the site, tourists can see numerous panoramas including the landscape of Bukittinggi and Agam City. Even Singgalang and Sianokyang River are seen clearly up there! Unlike Bogor Botanical Garden, this one has no official management. That means the local government lets the area grows naturally. No wonder, adventurers would choose this one instead of Bogor's. As for the facilities, some small gazebos, parking area, and toilets are available.
Exploring Taman Raya Balingka
The first thing to enjoy is the trip itself. It is because tourists should conduct trekking in order to reach the location. The botanical park resides on Jorong Subarang Hill, which is known for its easy track. That means it won't take much efforts to reach the site. Along the way to Taman Raya Balingka, tourists would see stunning landscapes of nearby villages and cities. Not to mention breezy wind would accompany everyone during trekking.
Once arriving at Taman Raya Balingka, tourists would see a lush highland forest featuring various types of vegetation growing on it. It is recommended to explore the area for the best experience, therefore. Here is the tip. Visitors should use a camera and take some photos during exploration. It is also recommended to wear comfy footwear in order to avoid weeds and thorns. The exploration may end in the top of the hill. On that area, tourists may see the famous Bukit Barisan Kamang. All sides of the horizon offer amazing panoramas, in fact!
In terms of size, Taman Raya Balingka is quite wide and it supports various types of tourist activities. Even visitors can learn some history regarding the site. It is said tons of tourists always crowded that area in the 1990s. However, the site was once shut and abandoned. Soon, it reopened and underwent improvements afterward. No wonder, the popularity returns and it has become one of the most recommended vacation spots to visit in Agam Regency these days.
Nearby Attractions

Puncak Lawang
Mount Singgalang
Mifan Waterpark
Nakhodo Camping Ground
How to Get There
From Jakarta City, the first destination is Padang City and it can be done fast by airplane. A flight from Soekarno – Hatta International Airport to Minangkabau Airport would take around 1 hour and 40 minutes, actually. From Padang, tourists can take Maninjau – Lubuk Basung Street and head to Agam Regency right away. This trip usually takes around 1 hour and 12 minutes, as the distance is 36.2 km. From Agam, they must take Padang Lua – Maninjau Street and head to Balingka Botanical Garden immediately. The distance is 36.2 km, so this trip would take around 1 hour and 12 minutes.
Where to Stay

Sumatra Ecoresort
Rumah Saisuak