Puncak Binu in Agam Regency, West Sumatra Province
---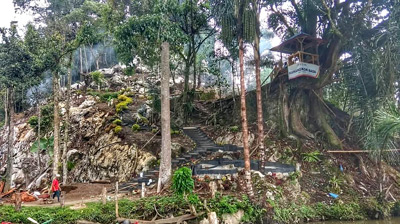 One of the most recommended vacation destinations in Agam Regency is called Puncak Binu or Binu Peak. As tourists may expect, this hilly area is suitable for trekking and outdoor activities. The location is in Kamang Ilia Village and it belongs to Kamang Magek Sub-District. The Indonesian local government even developed an outbound facility in that area, so visitors can enjoy a better experience during the exploration. Due to the increased facility and better environment, the popularity gets better over time as well. Trekking and outbound become two major activities, but tourists can enjoy other things like photography and relaxation, too!
The Nuance
The serenity and comfort welcome everyone directly once arriving on the site. At the foot of the hill, tourists would find stairs that they can use to reach the top of the hill. The location is surrounded by tall trees, so the ambiance is quite shady and refreshing. In terms of crowd, the number of visitors is considered moderate, but it becomes more crowded during weekends and holidays. For the information, the site was once covered by shrubs and bushes. Thanks to the local government and villagers. They take care of the environment well and provide better facilities over time. These days, Puncak Binu looks more beautiful than before.
Exploring Puncak Binu
Some tourists may wonder what they can do in Puncak Binu. Well, the first recommended thing to do is related to outbound. Visitors can simply use available facilities including flying fox, tree houses, and much more! There is even a natural cave to explore, so everyone should drop by in that spot later. For casual tourist activities, it would be great to enjoy swimming at the available pool. Visitors can even rent a raft and explore the famous Batang Agam River, which is located below the hill.
Exploration and trekking become the next things that tourists can enjoy in Puncak Binu. The site is different than regular hills, after all. It is because tourists can find a great white coral cliff during the exploration. Plus, it doesn't take much time and effort in order to reach the top of the hill. What is more? Both the nuance and environment are quite pristine. It is because the hill resides near to Bukit Barisan's protected forest.
The newest feature in Puncak Binu is none other than a thematic café. The concept is a fallen airplane and it becomes a wonderful place to hang out with friends or families. Not to mention both the foods and drinks are quite affordable. With all these features, Binu Peak definitely becomes a prime tourist allure to visit during the next vacation in Agam Regency, no?
Nearby Attractions

Luak Gadang
Kelok Ambacang
Puncak Bukik Bulek Simarasok
How to Get There
It is easy to reach Binu Peak in Agam Regency. First, tourists should get to Padang City (the capital of West Sumatra Province) by airplane. From Jakarta City (Soekarno – Hatta International Airport), a flight Minangkabau Airport usually takes around 1 hour and 40 minutes. From Padang, they should take Maninjau – Lubung Basung Street and reach Agam Regency immediately. This trip takes approximately 2 hours and 15 minutes, as the distance is 109 km. From Agam City, they should take Padang Lua – Maninjau Street and head to Kamang Ilia Village where Puncak Binu is located. The distance is 54.3 km, so this trip would take around 1 hour and 49 minutes.
Where to Stay