Badorai Waterfall in Agam Regency, West Sumatra Province
---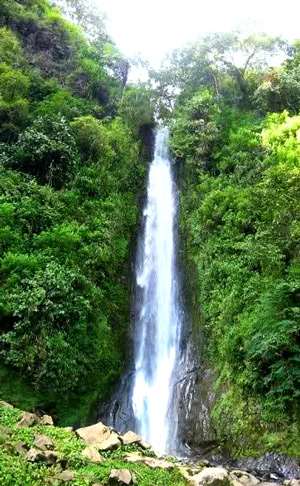 Well, most tourists come to West Sumatra Province in order to enjoy delicious Padang foods without a doubt. However, there is also Agam Regency, which is known for its beautiful natural attractions including waterfalls. One of them is located in Sungai Pua Sub-District and the name is Badorai Waterfall. This secluded waterfall is located in the midst of a forest, so tourists can also enjoy exploration and trekking when heading to the location. Not to mention the location is near to Bukittinggi City, too, so the accessibility is considered good.
The Nuance
Badorai Waterfall is located in a secluded forest in Indonesia, so it offers a peaceful atmosphere. It is surrounded by tall and shady trees, as well. In terms of appearance, it has several levels and the height is indeed tall. As for the water discharge, it is moderate! Here is a fact. There are 3 water discharges there. The first two have a height of about 50 meters. Another waterfall has a smaller height, which is about 20 meters. In terms of popularity, the third one is the best due to the comfiest location. In that area, tourists can even enjoy water sliding on the soft mountain rocks!
Exploring Badorai Waterfall
The first thing to enjoy when visiting Badorai Waterfall is the chance to enjoy exploration. As mentioned earlier, the location is in the midst of a forest. While heading to the site, tourists may see tons of green tall trees and bushes. Despite the tiredness, everyone won't regret at all. After all, those trees may protect them from the heat of the sun! After getting near to the site, they may hear the sound of gurgling water, as well.
Badorai Waterfall has some water discharges, but tourists are likely to visit the third one. The first reason is a comfier environment, which is suitable for relaxation. Even though this one is the smallest, the beauty is not inferior to other twos. Moreover, it features a special rocky landscape where tourists can enjoy water sliding on it. Another great feature is a natural pond with its refreshing water. Thus, visitors can enjoy bathing and swimming here.
After spending some time at the third Badorai Waterfall, it is recommended to reach the other two. However, the route is more challenging, so tourists need to spend much stamina when heading to the locations. The good thing is that they can see two majestic waterfalls with a taller size. Somehow, these two are perfect for a background for photography.
Nearby Attractions

Marapi Mount
Tabak Barawak
Tabek Gadang Tourist Site
Abel Monument
Area Camp Cadas Merapi
How to Get There
First, it is recommended to drop by in Padang City, which is the capital of West Sumatra Province. From Soekarno – Hatta International Airport at Jakarta City, in this case, a flight to Minangkabau Airport may take around 1 hour and 40 minutes. From Padang, tourists can take Maninjau – Lubuk Busung Street and head to Agam Regency. The trip would take around 2 hours and 15 minutes, as the distance is 109 km. Next, they should take Padang Lua – Maninjau Street and head to Badorai Waterfall directly. The distance is 50.5 km, so the trip would take around 1 hour and 41 minutes.
Where to Stay

Maya Sari Cottage
Nagari Aia Angek
Mahkota Family Homestay