Gadih Ranti Waterfall in Agam Regency, West Sumatra Province
---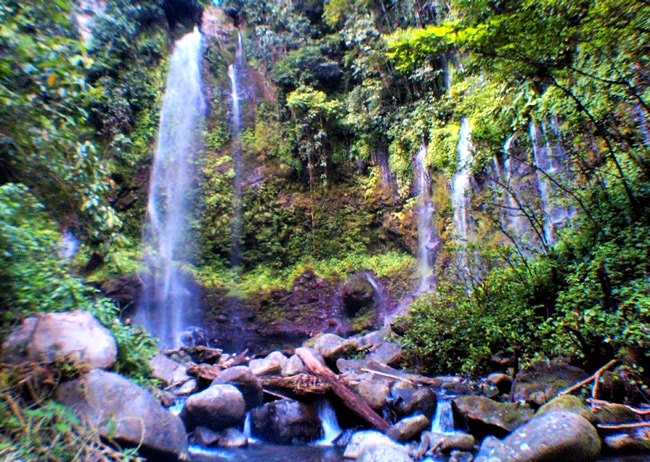 In Tanjung Raya Sub-District of Agam Regency, tourists would find several attractive waterfalls to explore. Perhaps, the most famous one is Bukik Batusialang. However, there is another famous waterfall located near to it. The name is Gadih Ranti Waterfall! The exact location is in Tanjung Sani Village and beauty is definitely astonishing! Moreover, tourists are impressed by the serenity. The location is not as popular as its sibling, after all. That means the number of visitors is low, so tourists can take advantage of the ambiance for relaxation and eradicating stresses. The site is also known for its legend! Thus, visitors only need to ask the locals regarding a related story.
The Nuance
Despite the seclusion, the waterfall has easy accessibility. That means tourists won't have difficulties in order to get there. Gadih Ranti Waterfall is hidden and flanked by bushy cliffs. It has a height of about 40 meters and features several levels, as well. Not to mention it comes with some minor water discharges, separated by cliffs. Beneath it, a small natural pond resides, featuring lots of big rocks. In terms of power, the water discharge is considered moderate. As mentioned before, the serenity is quite dominant there.
Exploring Gadih Ranti Waterfall
Before enjoying the beauty of Gadih Ranti Waterfall, tourists may need to pass through a lush environment first. The trekking route features both a footpath and wild environment. Along the way to the location, they may see various landscapes including local plantations and hills. The nuance is definitely relaxing. Not to mention the songs of birds would accompany everyone. No one would feel tired and bored during trekking, for sure!
For about 15 minutes of trekking, tourists would arrive at Gadih Ranti Waterfall. They would see the majestic waterfall right away! As mentioned before, this tall waterfall has some small water discharges around it. These are separated by cliffs and create a stunning background for photography. The view of hills and the refreshing atmosphere would stun everyone, without a doubt. Tourists can also take photos on the rocks with their friends.
Another recommended thing to do in Gadih Ranti Waterfall is to learn the local legend. According to the locals, there was a beautiful princess called Gadih Ranti who often took a bath on the site. It is said that there was a special bathing place located above the waterfall! At the time, she became a leader of the region and contributed to some constructions of mosques and inscriptions.
Nearby Attractions

Maninjau Lake
Bukik Batusialang Waterfall
Kelok 3
Ambun Tanai Park Square
Singgalang Mount
How to Get There
The first checkpoint is Padang City, which is the capital of West Sumatra Province. For outsiders, they must take an airplane to get there in order to get a comfortable an efficient trip. Here is an example. A flight from Soekarno – Hatta International Airport (Jakarta City) to Minangkabau Airport (Padang City) would take about 1 hour and 40 minutes. From Padang, tourists can take Maninjau – Lubuk Basung Street and head to Agam Regency. This trip usually takes around 2 hours and 15 minutes, as the distance is 109 km. From Agam, the last destination is Gadih Ranti Waterfall at Tanjung Raya Sub-District. The distance is 14.4 km, so this trip would only take around 25 minutes.
Where to Stay

Maninjau Hotel
Beach Guesthouse
Tan Dirih Hotel
Nuansa Hotel