Buya Hamka Museum in Agam Regency, West Sumatra Province
---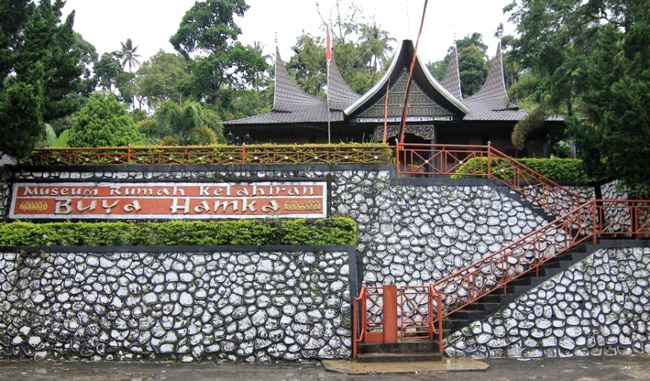 Agam Regency is not all about natural attractions. Aside from exploring beautiful waterfalls, tourists can also visit some interesting places in downtown. Here is an example. The name is Buya Hamka Museum, which is located in Tanjung Raya Sub-District. To be exact, the location is in Batang River Village. Plus, the museum resides near to the famous Maninjau Lake. That means everyone should drop by either after or before visiting the lake. As the name suggests, the museum was built to preserve historical items that belong to a famous Indonesian litterateur namely Abdul Malik Karim Amrullah or Buya Hamka. For those who love history and literature, they are likely to have a good time there.
The Nuance
Once arriving at the museum, tourists may see a unique building. The architecture design indeed represents Gadang House. It is surrounded by various big trees and features a big concrete name sign, located in front of it. The museum is located a few meters above the road surface. Not to mention it faces Maninjau Lake directly. No wonder, tourists can enjoy sightseeing while on the yard of the museum (before entering the building). Due to easy accessibility and distinct architecture, tourists can easily notice it, as well.
Exploring Buya Hamka Museum
Along the way to Buya Hamka Museum, tourists would find several street signs that may lead to the location. Thus, hiring a guide is not necessary. Once entering the building, tourists may see a desk with a guestbook on it. Thus, everyone should sign in first before accessing the museum. Beside it, a desk full of agate rings would welcome everyone. Some photos can be seen on the wall either. At those photos, Buya Hamka is seen along with various famous people including the first vice president – Bung Hatta.
So, what can tourists find inside the museum? Aside from Buya Hamka's works, tourists may see various collections and documentation. In some cases, visitors need the help of a local guide who can provide information regarding those objects. The most famous object perhaps is a photo of his funeral procession. Tons of people escort Buya Hamka's dead body at the time. This explains how important he was.
It is true that the guests are allowed to take photos while exploring the museum. However, no one is allowed to litter! All visitors should take care of the environment during the exploration. Also, it is recommended to carry enough cash for paying a guide service and entrance fee later. Somehow, tourists may continue their trip by visiting Maninjau Lake afterward.
Nearby Attractions

Maninjau Lake
Singgalang Mount
Sungai Geringging Market
Panorama Malaklak
Burai-Burai Indah Waterfall
How to Get There
There won't be difficulties in order to reach the Buya Hamka Museum. First, tourists should reach Padang City by airplane, especially those who come from outside the region. From Jakarta City (Soekarno – Hatta International Airport), in this case, a flight to Minangkabau Airport may take around 1 hour and 40 minutes. From Padang, the next destination is Agam Regency, without a doubt. Tourists only need to take Maninjau – Lubuk Basung Street to get there. This trip usually takes around 2 hours and 15 minutes, as the distance is 109 km. From Agam City, they can use the same route and head to the museum immediately. The distance is only 17.6 km, so this trip may take around 32 minutes.
Where to Stay

Nuansa Maninjau Hotel
Maninjau Indah Hotel
Muaro Beach Homestay