Sarasah Waterfall in Agam Regency, West Sumatra Province
---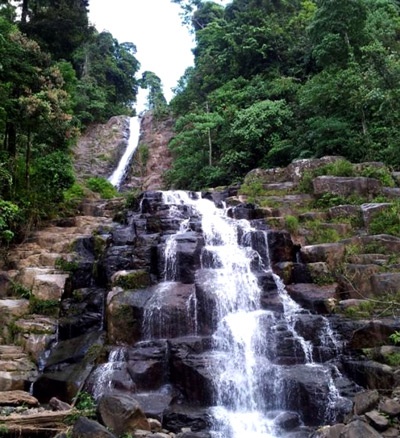 Some tourists may wonder what they can do in Agam Regency during holidays. Those who visit the region should not miss any beautiful waterfalls, actually. Here is an example. There is Sarasah Waterfall in Palupuh Sub-District. This serene and stunning waterfall resides in Pasia Laweh Village and located between two giant valleys! According to the locals, the waterfall never runs out of water regardless of the season. Thus, tourists can visit it anytime either during the hot or rainy season. Aside from the beauty, the waterfall emits a sacred aura as well. No wonder, the locals quite respect it and won't dare to litter in that area. What is more?
The Nuance
As mentioned before, Sarasah Waterfall is likely to have an eternal water discharge. Not to mention, it is flanked by two big valleys. The landscape looks both unique and beautiful there, without a doubt. In the right cliff, tourists may see a bed of grasses with colorful flowers on it as well. Plus, the waterfall has three levels! The first level has a height of about 10 meters, featuring a rocky natural pond. In this level, tourists can even see a rainbow sometimes. What about other levels? The second has a height of about 12 meters while the third is 14 meters. Not to mention they have a natural pond with a similar size. In these levels, the water discharge is stronger and often makes a loud gurgling noise!
Exploring Sarasah Waterfall
Those who visit Sarasah Waterfall are likely to enjoy an adventure and relaxation at once. They take advantage of the serenity in order to relieve their stresses. There is no entrance fee, but tourists should spend some money to park their vehicle. It is true that everyone should undergo short trekking in order to reach the first level. From the parking area, they must walk for about 200 meters. Have no worries. There has been a concrete pathway for reaching the location.
Once arriving at the first level of Sarasah Waterfall, tourists may see an amazing landscape. The site is flanked by two rocky cliffs and forest panorama. The songs of wild birds would accompany them as well on the site. In this area, many colorful flowers also grow abundantly, so visitors must take photos of these later. As for the water discharge, it is moderate and features a serene natural pond beneath it.
Tourists can get more fun and satisfaction by visiting the second and third water discharge! It requires more stamina and efforts, though. Moreover, the route becomes more challenging in order to reach the third level. Somehow, tourists need to crawl to get up there due to the slippery and steep track. Still, the rewards are wonderful. At those sites, the water discharges look more beautiful and the panoramas are better. What is more? According to the locals, a golden finned fish lives in the bottom of the pond. No wonder, the locals consider the site sacred!
Nearby Attractions

Ambun Suri Waterfall
Koto Baru Waterfall
Rindang Alam II
How to Get There
Have no worries. It is quite easy to reach Sarasah Waterfall. For outsiders, in this case, they should take advantage of an airplane service and head to Padang City first. From Jakarta City, for example, a flight from Soekarno – Hatta International Airport to Minangkabau International Airport would take around 1 hour and 40 minutes. Later, from Padang, tourists can simply take Maninjau – Lubuk Basung Street and head to Agam Regency right away. This trip would take about 2 hours and 15 minutes, as the distance is 109 km. From Agam, they should take Bagindo Aziz Chan Street and head to Sarasah Waterfall at Palupuh Sub-District. The distance is 126 km, so the trip takes approximately 3 hours and 30 minutes.
Where to Stay

Imelda Hotel
Abe Tree House
Airy Pauh