Puncak Lawang in Agam Regency, West Sumatra Province
---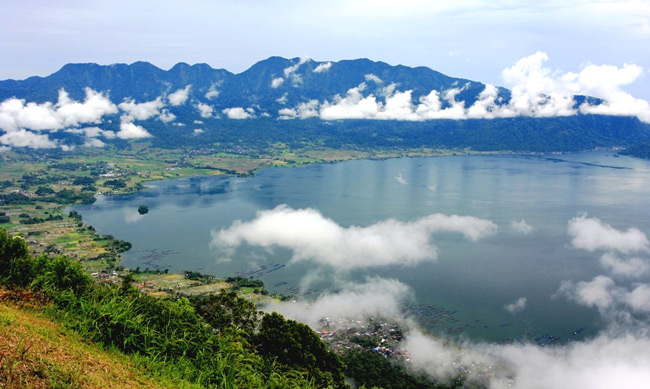 West Sumatra Province is known for its delicious culinary, without a doubt. Aside from that, tourists can take advantage of the region's beautiful nature for their holidays. In Agam Regency, for example, several attractive hills and mountains are available to explore. One of the best destinations is called Puncak Lawang. This green hilly landscape offers a stunning panorama and rejuvenating atmosphere to visitors. That means visitors are likely to enjoy trekking, relaxation, and sightseeing there. The location is in Matur Sub-District and the accessibility is considered easy. Even tourists don't need any guide's help to get there.
The Nuance
As mentioned before, the accessibility is excellent. This explains why lots of locals and tourists are seen on the site. In terms of nuance, the hill offers a peaceful ambiance despite the high number of visitors. The landscape is hilly and it features lots of green vegetation. Not to mention the air feels breezy and comfortable up there. The most common feature is the formation of pine trees and the view of Maninjau Lake on the horizon. Local villages are also seen clearly! For the information, Puncak Lawang resides on 1210 meters above the sea level. Thus, it offers a nice trekking experience for everyone.
Exploring Puncak Lawang
Well, there are many things to do in Puncak Lawang. One of them is relaxation. In this case, tourists only need to reach the pine forest and relax in that area. Spending some time under beautiful and lush pine trees would soothe everyone's mind, after all. Thus, it is recommended to come with family members or friends in order to get a better moment. Don't forget to carry a camera either, so everyone can collect good photos while relaxing.
The next recommended thing to do in Puncak Lawang is sightseeing. In order to get the best panoramas, though, tourists need to reach the top of the hill. From that site, Lake Maninjau looks quite beautiful! While sightseeing, it is also recommended to take photos, so tourists must not forget to carry either a smartphone or digital camera later. For the information, the trekking route is easy and safe. That means tourists won't spend much time and stamina in order to reach the viewing post.
What is more? Some people come to Puncak Lawang for camping. The fact is the locals have provided a special area to enjoy the activity. That camping spot is both vast and comfy. However, everyone should carry his or her equipment. No rental facility is available in that area, after all. Aside from camping, tourists can take advantage of the available outbound facilities like flying fox, swinging bridge, rope climbing, and much more!
Nearby Attractions

Green View
Tigo Baleh Nan Basa
Lawang Adventure Park
How to Get There
It is easy to reach Puncak Lawang. First, tourists must get to Padang City by airplane, especially those who come from outside the province. From Jakarta City, they can simply get the airplane service at Soekarno – Hatta International Airport and head to Minangkabau Airport directly. This flight usually takes around 1 hour and 40 minutes. From Padang, they should take Maninjau – Lubuk Basung Street and head to Agam Regency. The distance is 109 km, so this trip would take around 2 hours and 15 minutes. From Agam, they can take the same route and Kelok 44 Street in order to reach Puncak Lawang. The distance is 24.9, so this trip may take about 54 minutes.
Where to Stay

Arlen Nova's Paradise Hotel
Maninjau Lake Inn
Saisuak Homestay
Nuansa Maninjau Hotel