Banto Royo in Agam Regency, West Sumatra Province
---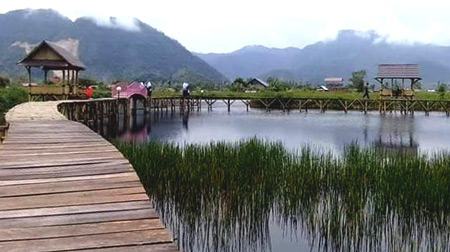 Another recommended tourist site is available in Agam Regency, which is called Banto Rayo. This new vacation spot becomes more popular these days, especially for those who look for a peaceful place to relax. The location is in Koto Tangah Village and it belongs to Tilatang Kamang Sub-District. In a nutshell, the site is suitable to enjoy a family recreation and to get rid of stresses. Visitors usually enjoy exploration and photography in that area. After all, the site features lots of vegetation and comfy facilities. It is likely everyone would spend much time there regardless of the time of the visit.
The Nuance
The first thing to notice is none other than the serenity. The site features mostly ponds, actually. The total area of the site is around 6.2 hectares. There is a big name sign there and traditional bridges to explore the ponds. The rest features are indeed vegetation. Lots of bushy plants and trees grow abundantly. What is more? Visitors can see an astonishing panorama of local farms and Barisan Hill! For the information, Banto Royo was once a swampy area. Later, the local government developed it into a natural tourist site for everyone to enjoy during holidays.
Exploring Banto Royo
Once arriving at Banto Royo, tourists may find lots of playgrounds. Despite the simplicity, it would amuse everyone. For instance, tourists can explore the site by using the available bridges. For those who want to relax, though, they can use the available gazebos. There are 9 of them, but the size is not quite big. In the gazebos, visitors can simply sit and relax while watching the swamps. It is also recommended to carry some snacks and drinks for eating together!
What is next? Banto Royo even features a flying fox and outbound facility! Have no worries. Everyone can enjoy these activities due to safety. For those who carry much money, they can also rent a boat and get around the ponds comfortably. Even slides and mud fields are available there. Well, tourists don't have to carry foods or drinks, actually. It is because they can buy some at available eateries. There is nothing to beat eating together while watching a beautiful watery landscape!
The next recommended thing to do in Banto Royo is photography. Tourists only need to find the best location to take some photos. Usually, visitors would stand in front of the name sign and with a beautiful hill as the background. One thing, everyone should only visit the location during good weather. Otherwise, they won't be able to enjoy those activities comfortably.
Nearby Attractions

Puncak Binu
Sonsang Village
Tehburai Kotorantang
Raflesia Arnoldi Park
Tarusan Kamang Lake
How to Get There
From Jakarta City, a flight from Soekarno – Hatta Airport to Padang City would take at least 1 hour and 40 minutes. Once arriving at Maninjau Airport, tourists can get to Agam Regency right away by taking Maninjau – Lubuk Basung Street. The distance is 109 km, so this trip is likely to take 2 hours and 15 minutes. From Agam City, the next destination is none other than Banto Royo in Koto Tangah Village. This trip is likely to take around 1 hour and 35 minutes, as the distance is 48.1 km. For a faster trip, it is recommended to take Padang Lua – Maninjau Street.
Where to Stay

Kompphil Guesthouse
Pakankamih Guesthouse
Parai Mountain Resort