Kelok 44 in Agam Regency, West Sumatra Province
---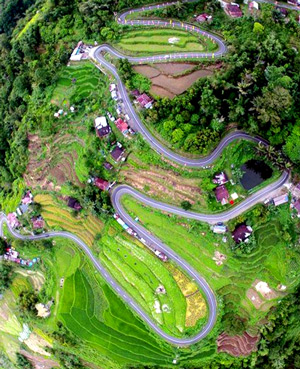 Agam Regency of West Sumatra Province perhaps is known for its highlands and natural attractions. However, visitors can also find unique vacation spot like Kelok 44. Actually, this is a regular street! The location is on highland and it has an extreme curve. No wonder, many tourists often drop by in order to watch the uniqueness directly. Due to the increasing popularity, in fact, the local government is planning to build some rest areas and viewing posts in that area. Soon, it would compete with famous tourist sites like Puncak Lawang and Lawang Park!
The Nuance
In terms of nuance, Kelok 44 is not as crowded as other streets. It is because the location is on a highland, so not many vehicles passing by. The location is in a hilly area and it faces the famous Maninjau Lake. Some people also call it Kelo Ampek Puluh Ampek. Each turn has a number, in fact. As for the panoramas, tourists can see the stunning lake and other landscapes. These include terraced farms, local rivers, and Barisan Hills. If tourists come at the right time, they may see lots of participants of Tour de Singkarak. Those bikers would crowd the street during the event.
Exploring Kelok 44
Usually, those who pass through Bukittinggi – Maninjau Street would drop by in Kelok 44 first before continuing their trip. The multiple curves look extreme and beautiful! As the name suggests, there are 44 curves there. During the high traffic, the trip becomes more challenging. It is because all vehicles should run slowly due to the narrow and steep street. It surrounds the hillside and resides on about 1500 meters above the sea level.
As for tourist activities, sightseeing and photography become the two most common things to do there. People only need to choose the right spot to enjoy the activities. It is because Kelok 44 is quite narrow. Somehow, coming with a local guide would be a good idea. This person knows the right area for sightseeing and taking photos, after all. Another consideration is the time of the visit. It is recommended to come only during low traffic. The purpose is to avoid lots of vehicles, so tourists can enjoy sightseeing and photography in a more comfortable manner.
What is more? Another reason for visiting Kelok 44 is to watch Tour de Singkarak. Lots of bikers would cross this area during the event. For tourists, it would be a nice moment, without a doubt. The only consideration is about the schedule. Everyone should find the right time to visit the site, especially when the event is held. In this case, tourists must talk to their tour agent first regarding the schedule.
Nearby Attractions

Lawang Adventure Park
Puncak Lawang
Maninjau Lake
Amban Tanai Park Square
Kelok 3
How to Get There
Kelok 44 is located near to downtown, so tourists can get there easily. Still, for outsiders, they must reach Padang City first by airplane. A flight from Jakarta City (Soekarno – Hatta International Airport) to Minangkabau Airport (Padang) usually takes around 1 hour and 40 minutes. From Padang, the next destination is Agam Regency. The distance is 109 km and the best route to take is Maninjau – Lubuk Basung Street. This trip would take around 2 hours and 15 minutes. From Agam, tourists can reach Kelok 44 right away. The distance is only 16.6 km, so the trip may take about 33 minutes or less.
Where to Stay

Maninjau Lake Inn
Nuansa Hotel
Maninjau Indah Hotel
Muaro Beach Bungalows
Beach Guesthouse