Puncak Tirtasari Sonsang in Agam Regency, West Sumatra Province
---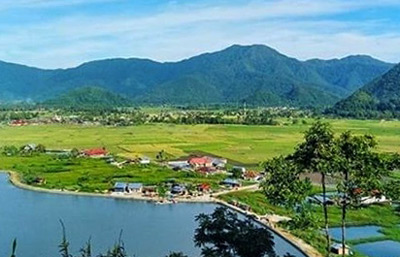 Spending a holiday or weekend in Agam Regency is a good idea, even for those who live outside the region. The most common allure is indeed related to nature. That means visitors can enjoy hiking, exploration, and other outdoor activities. As for the reference, tourists should visit Puncak Tirtosari Sonsang. This highland has another name actually, which is Tirtosari Sonsang Park. As the name suggests, it is located in Sonsang Village and belongs to Tilatang Kamang Sub-District. The hill offers more than a refreshing atmosphere, in fact. It is because tourists can see stunning panoramas, too!
The Nuance
In terms of size, the hill is not quite tall. That means visitors can get to the top of the hill without spending too much time. However, when heading to the trekking point. Tourists may find a group of ducks on the street. Everyone's vehicle should run carefully, therefore. When trekking, the stunning panoramas accompany everyone. Local farms and rural houses can be seen clearly from up there. On the horizon, a mountainous view also soothes trekkers.
Exploring Puncak Tirtasari Sonsang
Perhaps people have the same reason for visiting Puncak Tirtasari Sonsang. It is none other than trekking. The trekking route is easy, after all, so it is suitable for beginners. Not to mention it won't take much effort and time to reach the top. Approximately, tourists only need to spend about 10 or 15 minutes. Once arriving at the top of the hill, the great panoramas welcome them right away. A big name sign is also located in that area. Plus, the view or rural village would be the first thing to notice here.
Aside from sightseeing, tourists can do more things on Tirtasari Sonsang Peak. For example, it is photography. However, this activity should be done only during good weather. At noon, for instance, the landscapes look more astonishing due to the sparkling reflection of the sun. The only issue perhaps is the heat. As an alternative, in this case, tourists should come either in the morning or afternoon.
Due to a comfy nuance, it is likely tourists would spend more than one hour on Puncak Tirtosari Sonsang. Later, after trekking, tourists need to reach a natural pond located on the feet of the hill. In this spot, they can rent a water bike and get around the pond comfortably. As for the rental fee, it depends on the time of the visit. It becomes pricier during holidays, for sure.
Nearby Attractions

Lereng Singgaleng
Sonsang Village
Banto Royo Park
Tirtasari Waterpark
How to Get There
For those who live outside Sumatra Island of Indonesia, it is recommended to drop by in Padang City (the capital of West Sumatra Province) first before heading to Puncak Tirtosari. From Jakarta City, in this case, tourists should take an airplane at Soekarno – Hatta International Airport and head to Minangkabau Airport right away. This flight usually takes around 1 hour and 40 minutes. From Padang, the next destination is Agam City and the best route to take is Maninjau – Lubuk Basung Street. This trip usually takes around 2 hours and 15 minutes, as the distance is 109 km. From Agam, tourists can simply head to Puncak Tirtosari Sonsang by taking Padang Lua – Maninjau Street. The distance is 48.7 km, so the trip would take around 1 hour and 38 minutes.
Where to Stay

Kompphil Guesthouse
Pakankamih Guesthouse