Bukik Baka Luak Gadang in Agam Regency, West Sumatra Province
---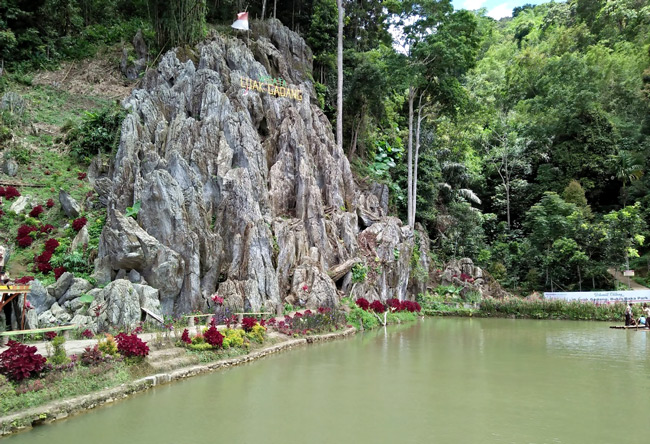 In Agam Regency, tourists would find a famous vacation area called Bukik Baka Luak Gadang. This natural attraction is located in Kamang Ilia Village and belongs to Kamang Magek Sub-District. Due to increasing popularity, the site even has more visitors these days. This rocky hill features numerous allures that tourists can enjoy during the visit. That means visitors can do lots of things there, including trekking, sightseeing, photography, and family recreation. The location is on a highland, as well. No wonder, it becomes a nice place to relieve stresses and spend a good time with a family in Indonesia.
The Nuance
From the top of the hill, tourists may see stunning panoramas of nearby landscapes. The nuance is refreshing and peaceful despite the high number of visitors. The hill is rocky and it looks quite majestic. Not to mention several ponds surround it. The management even provides rafts for tourists to rent. That means visitors can enjoy rafting on those natural ponds! The water is milky green and the ponds are surrounded by tall trees, too. There is a special pathway used for crossing those ponds either.
Exploring Bukik Baka Luak Gadang
The first thing to enjoy in Bukik Baka Luak Gadang is to relax by the ponds. One of these ponds is located near to the big rocky cliff. At a glance, the cliff looks similar to a giant coral! No wonder, it often becomes an object for photography. Aside from sightseeing and photography, tourists can do more things in the ponds. It is definitely to ride a raft and explore them! One thing, everyone needs to spend some money to get the service.
After enjoying some time at the natural ponds, tourists can conduct trekking afterward. Usually, this may spend about 45 minutes in order to reach the top of the hill. Despite the tiredness, the rewards are quite satisfying. For instance, tourists can witness astonishing panoramas of nearby landscapes. Even though the hill is dominated by rocks and cliffs, tourists can find several big trees and various types of birds as well. Thus, it is recommended to carry a camera when heading to the location.
The good news is that visitors don't need to pay an entrance fee in order to get in Bukik Baka Luak Gadang. Still, they need to carry some cash in order to rent a raft and buy some snacks later. Somehow, it is also recommended to come with a local guide who knows the trekking route well. That means tourists need to spend more money on this service.
Nearby Attractions

Ngalau Indah
Mount Sago
Mount Marapi
How to Get There
For those coming from Jakarta City, they can take an airplane at Soekarno – Hatta International Airport and head to Padang City first. This flight may take around 1 hour and 40 minutes, actually. After arriving at Minangkabau Airport, they can simply take Maninjau – Lubuk Basung Street and head to Agam Regency. The distance is 109 km, so this trip is likely to take around 2 hours and 15 minutes. Later, from Agam City, they may continue the trip and head to Bukik Laka Luak Gadang right away. This trip would take around 1 hour and 51 minutes, as the distance is 55.4 km.
Where to Stay