Visiting Agam City in West Sumatra Province
---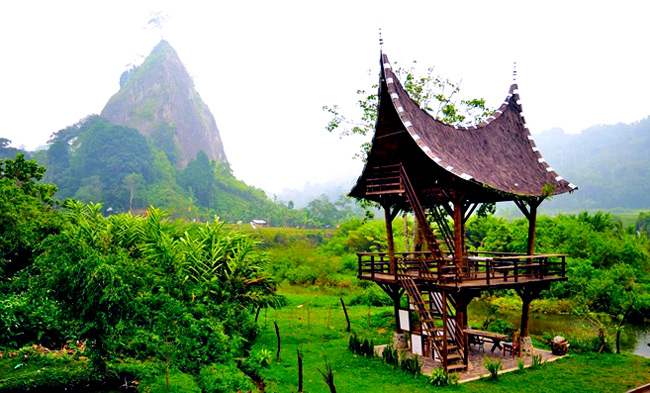 In West Sumatra Province, tourists can find other attractive regions to explore during holidays aside from Padang City. For example, there is Agam City. In the past, the name was Luhak Agam. Some visitors are even interested in the meaning of the name. It derived from the Hebrew Language, which means either a swamp or lake. When it comes to tourism, the region is known for its natural attractions, including waterfalls, mountains, lakes, rivers, etc. That means nature lovers and adventurers would have a good time here. It becomes a nice destination to conduct a family recreation in Indonesia.
The Nuance
Agam Regency has both sophisticated and unspoiled areas for tourists to explore. For the information, the region is dominated by mountainous landscapes. Two basin lines pass through it, which are Batang Antokan and Batang Agam. Despite the fact, Agam also has some beautiful islands including Ujung and Tangah Island. As for the shorelines, the length is moderate. What is more? The locals are indeed friendly and they have adapted to modern life. Not to mention tourists can find some good hotels and facilities!
Exploring Agam City
Now, let's talk about tourism. What can visitors do in Agam, actually? Well, as mentioned earlier, nature lovers would have a good time there. The first recommended thing to do is trekking. The region has two famous mountains called Singgalang and Marapi. Both of them have a similar height and feature a nice trekking route. That means both beginners and experienced trekkers would be able to enjoy the activity! What they need is a local guide or porter service.
After spending some time in those mountains, tourists must visit the famous lake called Maninjau. The location is in Tanjung Raya Sub-District and the total size is about 9.95 km per square! Next, it is recommended to explore local forests where visitors can enjoy exploration and relaxation. Moreover, they have the chance to meet beautiful exotic animals like deer, Sumatran tigers, and much more! Various local birds are also seen in the forest, including Muo, Kuau, Pungguk, Ketitiran, Balam, and much more! Don't forget to see the famous and giant flowers called Rafflesia Arnoldii, too!
When exploring Agam, tourists must not forget to drop by at available stunning waterfalls. The best destination is Malalak, in this case, which has the most waterfalls. Tourists can reach Langkuik Tinggi, Batang Pipia, and Burai-Burai Waterfall there. After exploring the region, the last recommended thing to do is related to culinary. The best choice would be Cubadak Kicuah. At a glance, it looks similar to Rendang beef. However, the main ingredient is young jackfruits!
Nearby Attractions

Maninjau Lake
Belukar River
Sitanang Waterfall
Linggai Park
Tuanku Imam Bonjol Monument
How to Get There
First, tourists should reach Padang City or the capital of West Sumatra Province. The best way to get there is by airplane, actually. From Jakarta City, tourists can get the airplane service at Soekarno – Hatta International Airport and head to Minangkabau Airport directly. Usually, the flight may take around 1 hour and 40 minutes. From Padang, the next destination would be Agam Regency and the best route to take is Maninjau – Lubuk Basung Street. The distance is 109 km, so this trip would take around 2 hours and 15 minutes.
Where to Stay

Arlen Nova's Hotel
Maninjau Lake Inn
Denai Putra Hotel
Pasir Panjang Permai
Roemah Saisuak

Latest News
What do tourists know about Bukittinggi City? Well, most of them recognize it as the capital of West Sumatra Province belongs to Indonesia. Some of them are even aware of its tourism potential, so they keep coming to the region over time, especially during long holidays. Not only it becomes the governmental center of West Sumatra, the city was once the capital of West Sumatra and Sumatra Province! Moreover, in the past, it was called Fort de Kock and known as the birthplace of a famous person named Mohammad Hatta…
---
  Langkisau peak tourism object is located at the edge of the koto Painan with a height of about 500 meters above sea level and it offers an inspiring beauty. Langkisau peak is an area of excellent Pessel which have tourism potential that should be developed, because this area is at a height so that people who visit will be able to see the beautiful scenery and fascinating about the city Painan and Sago District IV of Jurai. At night, will be more lively enchanted by beautiful night scenery that…
---
  Siberut Island Becomes part of Mentawai Islands, Siberut is the largest island at the northernmost and becomes the main important island for Mentawai People.  The Mentawai tribe still maintains the lifestyle and traditions passed down from their ancestors from thousands of years ago. They live in houses locally called 'uma', made from wooden scaffolds which house contains several families each. Siberut is located in the Indian Ocean, approximately 100 km off the west coast of West Sumatra, and separated from the main island by the Mentawai Strait. The island…
---
Sawahlunto is one of provinces in Indonesia, precisely in West Sumatera, Indonesia. This town is located in 95KM Northeast of Padang and surrounded by 3 districts in West Sumatera, which is Tanah Datar, Solok and Sijunjung. Sawahlunto is divided into 4 sub-districts and it has 273,45 km², with populated by 54.000 people. During Dutch civilization, Sawahlunto was popular as coal mining town. After being a death town, during the closing of the mining, Sawahlunto nowadays becomes the growing city with multi-ethnicity inside the community, and awarded as the best old…
---