Shoe and Sandal Production in Wedoro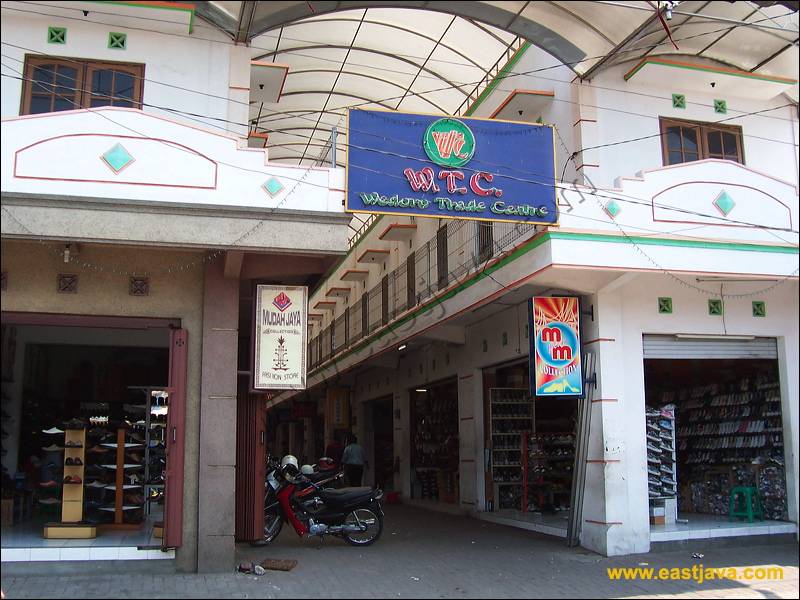 Colonel Sugiono Joint Streets Wedoro Waru Sidoarjo is solid then man grass. Parking area for two wheels has been full. All outlets have been opened and ready to greet the buyer with each pledge product.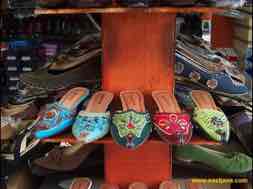 Wedoro village, Waru district, Sidoarjo regency is known as industrial centre of sandal and shoe since long time ago. Not only that, it also has batik and 'tempe' product. Start in 1978 shoe and sandal craft in this place has been progress and marked by the increase of the crafter and product. The material that applied for this craft is leather. Its distribution is still relying on the merchants in Turi Market, Supermarket, Blauran Market.
During through years do transaction with the merchants; the crafter often feel harmed by payment system that apply giro billet, the payment due often imprecise and there is a cutting equal to 4-5% per month. Finally they try for self-supporting with open a showroom so that they can sell directly. The other constraint is the expensive of the main material price especially spoons and glue because distribution line length. Therefore, the crafters hope the role of government to create regulation that supporting their business.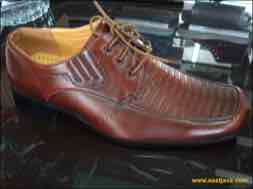 The product that yielded by the crafter is hardly variety and innovative. There are always newest model each month. They claimed for that purpose, because if they don't do it, they will lose their business.
In this area, sandal and shoe product price range between Rp 5000, - until Rp 35000, -. Even sometimes moment it has sold Rp 10000, - (3 sandal tides). Product that sold in Wedoro is not only made of local crafter but also there are external product for example Bogor and Bandung.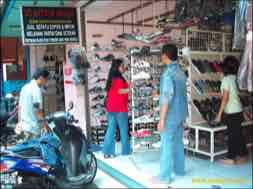 The number of outlet up to June 2003 has reach 210. While, the amounts of the crafter that noted by the Shoe and Sandal Business Association is 600. The production ability of the crafter is 100 gorsier / week / crafter. In Waru district Sidoarjo regency, there are 17 villages, 9 part of it is the centre of sandal and shoe industrial that is Wedoro, Kepuh Kiriman, Brebek, Wadung Asri, Tambak Rejo, Ngingas, Tropodo, and Janti.
Photo Gallery

Latest News
Indonesia is not only rich in cultural diversity. However, there are various historical stories from the city of Heroes, Surabaya. We can find stories about the history of this nation from movies, books, fairy tales, songs and even tourist spots. This of course makes Surabaya, a city with various stories. In addition to make visitors more familiar with the history of the Indonesian nation, Surabaya is a space for education and remember about what the beginning of the existence of Surabaya and all other unique buildings. Maybe from here, we…
---
When you arranging a vacation trip out of town, did any of you include the hero city of Surabaya on your visit list? It's likely that many of you will say no. This is because Surabaya is indeed not known as a tourist city. Even the residents themselves also admit that Surabaya City of Heroes has short destinations. Even though Surabaya is the second largest metropolitan city in Indonesia after Jakarta. Realizing the importance of the meaning of soul's relaxation for the Urban, who are daily filled with various kinds…
---
Impeccably designed, the spacious comfort, personalized services and extensive facilities, provided at Puri Darmo Serviced Residence offers you an opportunity to relax and enjoy your business travel, leisure vacation or relocation in Surabaya. The residence is designed for the international executive and family, with business and recreational facilities as well as educational facilities. Spacious and stylishly decorated, each apartment offers comfortable living as well as modern amenities. Ideal corporate housing for long or short-term project assignment in Indonesia, the residence offers a welcome and refreshing alternative to the hotel or…
---
Pondok Asri Guest House is a family guest house that located at Jl. Kalibokor Selatan 108 Surabaya. This family guest house is available for family or standard single guest, with valuable facilities like : Room Facilities :AC, TV, Phone, Bath Room / Showwer Laundry Service Room Service (16 Hours) General : Safe Deposit Box Credit Card accepted Breakfast, Lunch, Dinner Car for rent can be arranged upon request Extra Bed : Mattresses on the floor or ring extra bed For More Info, please contact: Pondok Asri Family Guest House Jl.…
---