Bamboo Runcing Monument
---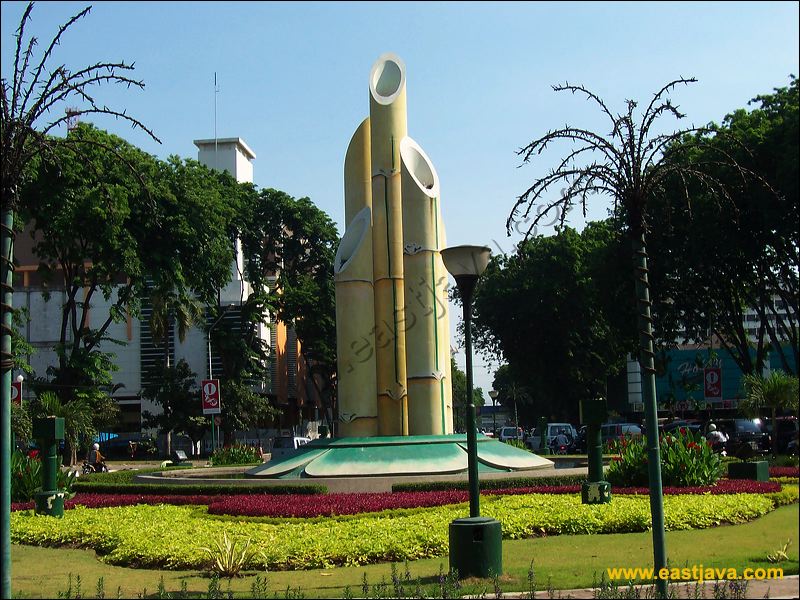 Situated in the heart of Surabaya City, built to Panglima Sudirman Street, which is the main road with solid traffic. Bamboo Runcing is Surabaya city icon besides the Heroes Monument. Tourist with small and big vehicle can park around the park eastside the road. In edge of Embong Ploso Street become the meeting there is garden that is enough calm so that many exploited by the motorcyclists for take a rest for a moment release fatigue.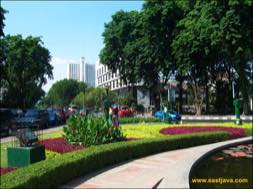 Bamboo Runcing Monument is built in memorize of Surabaya People (arek-arek Suroboyo) spirit martially fight against colonist with patch up weapon although only with a slice bamboo which its back part is tapered. Date of 10 Novembers 1945 is struggle bollard of Indonesia People causing specified as Heroes Day.
This monument consisted of 5 pillars and its high concrete pillar not uniform; it is formed to look like sharp-pointed bamboo. The height of highest sharp-pointed bamboo is estimated some meters. At the time of certain, water pump is implemented so that water will go out from each bamboo hole. Various colorful ornamental plants encircle this monument so that seen calm and fresh.
After completed visiting Bamboo Runcing monument, the tourist can continuing to Zoo Surabaya, besides see the collection of animal it is also place which suited for releasing fatigue because it has shaded by big trees. Or for continuing planning tourist event of expense hence Tunjungan Plaza and Surabaya Plaza is shopping mall closest and complete because it calm and has many counters and products that have market immeasurable.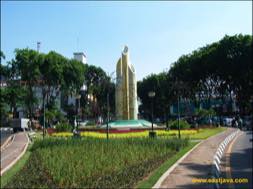 Kayoon Street as the center sale of ornamental plant either leaf and also flower is place of making a correct trip alternative for somebody who has some hobbies especially mothers and the girls. Start orchid until aglaonema is arranged nattily disturb the eye to near.
How to Get There
Bamboo Runcing Monument is located in the heart of Surabaya, in the midst of Panglima Sudirman street. The visitors who come to Surabaya to be able to directly recognize the existence of this monument was time to cross. The location of monument is also located close to the Surabaya Zoo, Tunjungan Plaza, Surabaya Plaza and the Heroes Monument Surabaya. You can get this place when visited the Surabaya Zoo is one of the tourist attractions in Surabaya are popular. If you are visiting Surabaya, but do not have enough budget to hire a star hotels, cheap hotels in Surabaya reference to help you make the choice.
Where to Stay
Accommodations are mostly available in Bamboo Runcing Monument. They have distinct facilities and prices. For a reference, there are some recommended stars-hotel or budget hotels like:

Pullman Surabaya City Centre
Grand Darmo Suite
Ibis Surabaya City Center Hotel
Citihub Hotel
Photo Gallery

Latest News
Indonesia is not only rich in cultural diversity. However, there are various historical stories from the city of Heroes, Surabaya. We can find stories about the history of this nation from movies, books, fairy tales, songs and even tourist spots. This of course makes Surabaya, a city with various stories. In addition to make visitors more familiar with the history of the Indonesian nation, Surabaya is a space for education and remember about what the beginning of the existence of Surabaya and all other unique buildings. Maybe from here, we…
---
When you arranging a vacation trip out of town, did any of you include the hero city of Surabaya on your visit list? It's likely that many of you will say no. This is because Surabaya is indeed not known as a tourist city. Even the residents themselves also admit that Surabaya City of Heroes has short destinations. Even though Surabaya is the second largest metropolitan city in Indonesia after Jakarta. Realizing the importance of the meaning of soul's relaxation for the Urban, who are daily filled with various kinds…
---
Impeccably designed, the spacious comfort, personalized services and extensive facilities, provided at Puri Darmo Serviced Residence offers you an opportunity to relax and enjoy your business travel, leisure vacation or relocation in Surabaya. The residence is designed for the international executive and family, with business and recreational facilities as well as educational facilities. Spacious and stylishly decorated, each apartment offers comfortable living as well as modern amenities. Ideal corporate housing for long or short-term project assignment in Indonesia, the residence offers a welcome and refreshing alternative to the hotel or…
---
Pondok Asri Guest House is a family guest house that located at Jl. Kalibokor Selatan 108 Surabaya. This family guest house is available for family or standard single guest, with valuable facilities like : Room Facilities :AC, TV, Phone, Bath Room / Showwer Laundry Service Room Service (16 Hours) General : Safe Deposit Box Credit Card accepted Breakfast, Lunch, Dinner Car for rent can be arranged upon request Extra Bed : Mattresses on the floor or ring extra bed For More Info, please contact: Pondok Asri Family Guest House Jl.…
---