When you arranging a vacation trip out of town, did any of you include the hero city of Surabaya on your visit list? It's likely that many of you will say no.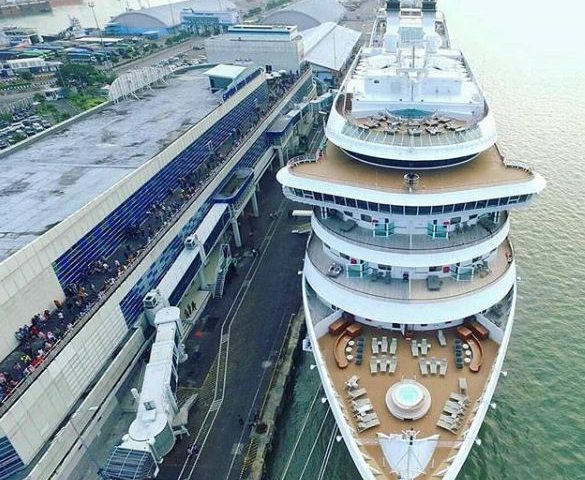 This is because Surabaya is indeed not known as a tourist city. Even the residents themselves also admit that Surabaya City of Heroes has short destinations. Even though Surabaya is the second largest metropolitan city in Indonesia after Jakarta. Realizing the importance of the meaning of soul's relaxation for the Urban, who are daily filled with various kinds of stressful work, Pelindo III is called to contribute. To overcome this problem, Pelindo III took the initiative to open one of its buildings in Tanjung Perak region and named it Surabaya North Quay.
The building used is a strategic terminal, which is commonly used as a terminal for world luxury cruise ships. The 2nd and 3rd floors of the building functioned as the attraction location. From the rooftop area on the outside porch of the 3rd floor, visitors can enjoy the sea. The view of the high seas and ships passing by at the port are looks different.
The ships are passing by Surabaya to Madura. As for the large vessels seen, they are generally cargo ships connecting Surabaya with Sulawesi, Irian, Kalimantan and other islands in eastern Indonesia. There will held a live music at the Wednesday and Saturday in North Quay Surabaya, but this event will only held in good weather not rainy. It usually starts at 17:00. The visitors will enjoy keroncong, pop, to jazz.
In addition, from the Surabaya North Quay rooftop, visitors can enjoy the beauty of Suramadu Bridge and the dashing Jalesveva Jayamahe Monument. This longest bridge in Indonesia will look more beautiful at night. When the lights of the Suramadu Bridge are lit, the rays contrast with the darkness of the ocean behind. The rooftop area designed with green synthetic grass, parasol umbrellas, colorful bean bags and wooden chairs, which can also be used as photo location. When beautiful lights on the port are turned on, it certainly adds romantic and beautiful impression to the photos taken.
The visitors can enjoy the sunset in Surabaya North Quay rooftop. The romantic atmosphere of the sun when the sun sank, the combination of sun colors turning to yellow, the sky blushing, the sea stretching, and the sailing ship, really depicting a perfect sunset like in the painting of the maestro.
Madura Strait Fun Trip Sailing
This tourist port not only serves long-distance travel, but also provides short-distance tour boats, in Madura Strait Sailing Fun Trip program. Madura Strait cruising held every weekend at 15:00 and 17:00 WIB.
–sh