Pasar Genteng - Genteng Market: The Center of Souvenirs, Electronics and Fruits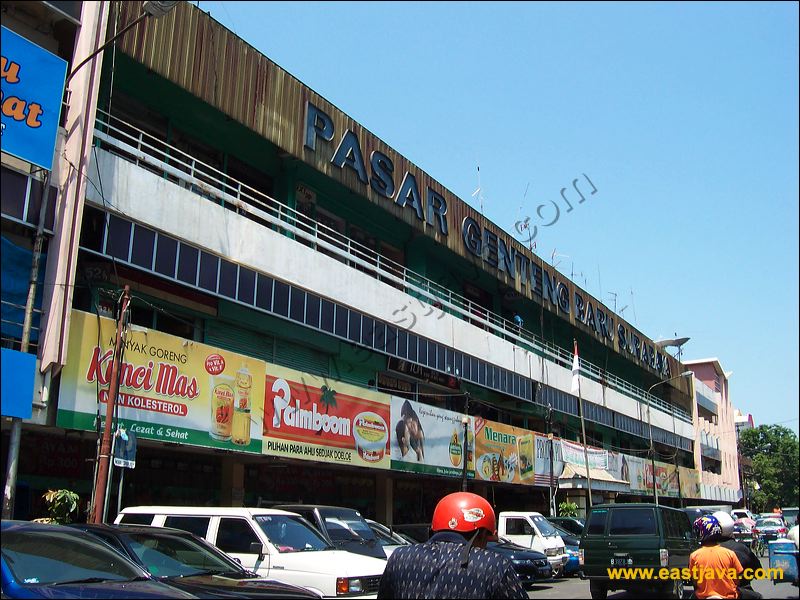 Wish present typical of Surabaya? Stop to Genteng market Surabaya. In this traditional market is available of typical food of Surabaya like krupuk, saline fish, flaky or krinting fish and food types from crop growing on the sea. For example: flaky lorjuk, prawn, eggplant, and tripang. All snacks or light food and the complement eat that have been be tidy is good in plastic and also box. Not only crisply smell and felt fish and just prawn being marketed in Genteng Market. Fruits taste crisply like salak, mango, banana, jackfruit and pineapple is around the special shop and kiosk that seller typical snack of Surabaya.
The tradesman give amenity to the consumer with pack all order, include accompanying to place of even send to the town outside of Surabaya. The shops that market the snacks, crisply and bandeng smoke and presto generally reside in roadside through Genteng Baru street. All the shops average to give the amenity to consumer especially in order not to disturb consumer. Product that sold also have been tidy and something have ready to be dined.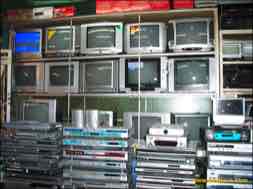 Some tradesmen even consider to marketing through the Internet. For the shake of consumer, everything is watered down including payment of poison bank transfer and ordering of telephonic goods. Product that sold between 400-700 types of snacks, include bandeng presto, bandeng smoke, terasi, petis and otak-otak. Almost 70 % snacks the food complement at the shop, and produced by its factory in Sidoarjo and Pasuruan.
While bandeng smoke, presto, and petis is made self without using preservative material. Special petis, besides its various raw material, its process is also complicated. For bandeng presto and smoke even without preserver, can be holding up four to seven days.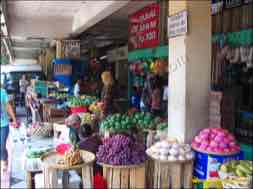 While terasi is come from Sidoarjo, briny fish from Tuban, the snacks in the form of plant and sea animal like lorjuk, eggplant, and tripang come from Kenjeran, Gresik, and Sidoarjo. The supplier that generally is women, has trained and constructed in expectation of tilling its product is suitable with the consumer appetite, both international and also local. Construction to the goods supplier is always done because the consumers seldom ask more crisply snack or more saline. In principle all products is match with the consumer tongue.
In principle innovation is always dug that product don't be leaved consumer. Other effort is ask the consumer opinion directly especially the customers who concerning it aroma and product taste. The step is also fulfills the desire of consumer to new product.
This flaky lorjuk and tripang is special snacks from Surabaya, because there are have not other its producing area. Flaky melinjo or chips emping from Kediri with various tastes now is in so many that is hot, prawn and cockle, the price can be reach Rp 30000 per kg. Melinjo usually tidy in box and plastic as heavy 250 grams and heaviest 500 grams.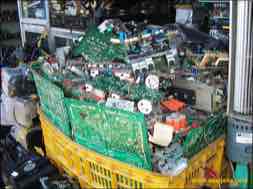 More than anything else the market also become the center commerce of electronic and the complete cake raw material and bread in Surabaya. Its titled as the center cake raw material, electronic, and souvenirs from Surabaya have been very stick, so that this market is more crowded visited. So, it's time to correct, that its status as tourism object expense can defend.
Now Genteng Market that built in 1973 equipped with 1142 stand broadly building 7043 square meters. The condition of this three floors traditional market's building is around 75 %. Floor I is allocation for merchant fruit and requirement of household, Floor II for electronics component merchant, Floor III is not many applied besides market office.
This market location is enough strategic and encircled with big shopping centre like Tunjungan Plaza, Surabaya Plaza and white collars. This strategic location has make Genteng market as Shopping Tourism Object.
Wish to bring some gifts from Surabaya, stop in Genteng market.
Photo Gallery

Latest News
Indonesia is not only rich in cultural diversity. However, there are various historical stories from the city of Heroes, Surabaya. We can find stories about the history of this nation from movies, books, fairy tales, songs and even tourist spots. This of course makes Surabaya, a city with various stories. In addition to make visitors more familiar with the history of the Indonesian nation, Surabaya is a space for education and remember about what the beginning of the existence of Surabaya and all other unique buildings. Maybe from here, we…
---
When you arranging a vacation trip out of town, did any of you include the hero city of Surabaya on your visit list? It's likely that many of you will say no. This is because Surabaya is indeed not known as a tourist city. Even the residents themselves also admit that Surabaya City of Heroes has short destinations. Even though Surabaya is the second largest metropolitan city in Indonesia after Jakarta. Realizing the importance of the meaning of soul's relaxation for the Urban, who are daily filled with various kinds…
---
Impeccably designed, the spacious comfort, personalized services and extensive facilities, provided at Puri Darmo Serviced Residence offers you an opportunity to relax and enjoy your business travel, leisure vacation or relocation in Surabaya. The residence is designed for the international executive and family, with business and recreational facilities as well as educational facilities. Spacious and stylishly decorated, each apartment offers comfortable living as well as modern amenities. Ideal corporate housing for long or short-term project assignment in Indonesia, the residence offers a welcome and refreshing alternative to the hotel or…
---
Pondok Asri Guest House is a family guest house that located at Jl. Kalibokor Selatan 108 Surabaya. This family guest house is available for family or standard single guest, with valuable facilities like : Room Facilities :AC, TV, Phone, Bath Room / Showwer Laundry Service Room Service (16 Hours) General : Safe Deposit Box Credit Card accepted Breakfast, Lunch, Dinner Car for rent can be arranged upon request Extra Bed : Mattresses on the floor or ring extra bed For More Info, please contact: Pondok Asri Family Guest House Jl.…
---