Petekan Bridge Surabaya " Ophaalbrug"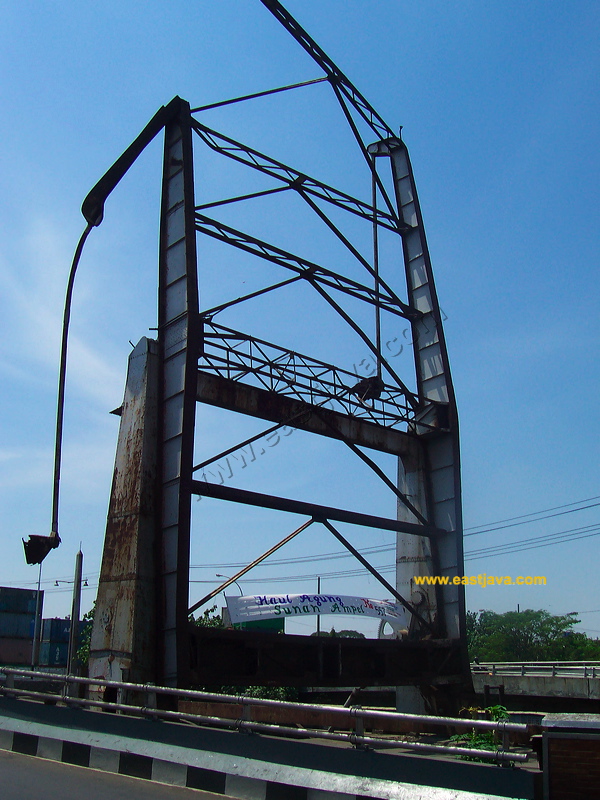 The old bridge has been split Kalimas River and has estuary in Madura strait. This bridge is located in Ujung area, at north side of Surabaya, recognized as "Jembatan Petekan". The words of "Petekan" is come from Javanese with the headword "Petek" means depressed, so that if we describe this bridge name is if mechanic knob from this bridge "dipetek" or depressed, hence the bridge will opened.
NV Braat and Co. makes the bridge, which in Dutch language called "Ophaalbrug", around of 1900. The bridge is design able to boost up and degraded because at that moment Kalimas River become the main transportation line of traditional boat, which bring goods to the commerce area in Kembang Jepun.
Petekan Bridge stays about 100 meters from the main gate to The Head Quarters Command of East Region of Indonesia Republic, which is one of Indonesia Military Navy bases.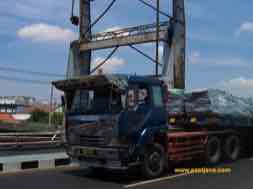 This bridge is strategic and its located is nearby to Sunan Ampel Mosque, Tanjung Perak seaport as the main economics area and transportation in Indonesia East area. The other installation military like The Head Quarters Command of Marine, Navy Academy, "Lantamal" and other big industry.
Talk about Petekan Bridge, is always related to Kalimas port, which is the first port in Surabaya, traditional individuality. Ahead from this port, we can step into Surabaya, through "Jembatan Merah", up to Grahadi, the residence of the Governor.
Photo Gallery

Latest News
Indonesia is not only rich in cultural diversity. However, there are various historical stories from the city of Heroes, Surabaya. We can find stories about the history of this nation from movies, books, fairy tales, songs and even tourist spots. This of course makes Surabaya, a city with various stories. In addition to make visitors more familiar with the history of the Indonesian nation, Surabaya is a space for education and remember about what the beginning of the existence of Surabaya and all other unique buildings. Maybe from here, we…
---
When you arranging a vacation trip out of town, did any of you include the hero city of Surabaya on your visit list? It's likely that many of you will say no. This is because Surabaya is indeed not known as a tourist city. Even the residents themselves also admit that Surabaya City of Heroes has short destinations. Even though Surabaya is the second largest metropolitan city in Indonesia after Jakarta. Realizing the importance of the meaning of soul's relaxation for the Urban, who are daily filled with various kinds…
---
Impeccably designed, the spacious comfort, personalized services and extensive facilities, provided at Puri Darmo Serviced Residence offers you an opportunity to relax and enjoy your business travel, leisure vacation or relocation in Surabaya. The residence is designed for the international executive and family, with business and recreational facilities as well as educational facilities. Spacious and stylishly decorated, each apartment offers comfortable living as well as modern amenities. Ideal corporate housing for long or short-term project assignment in Indonesia, the residence offers a welcome and refreshing alternative to the hotel or…
---
Pondok Asri Guest House is a family guest house that located at Jl. Kalibokor Selatan 108 Surabaya. This family guest house is available for family or standard single guest, with valuable facilities like : Room Facilities :AC, TV, Phone, Bath Room / Showwer Laundry Service Room Service (16 Hours) General : Safe Deposit Box Credit Card accepted Breakfast, Lunch, Dinner Car for rent can be arranged upon request Extra Bed : Mattresses on the floor or ring extra bed For More Info, please contact: Pondok Asri Family Guest House Jl.…
---