Monument of Governor Suryo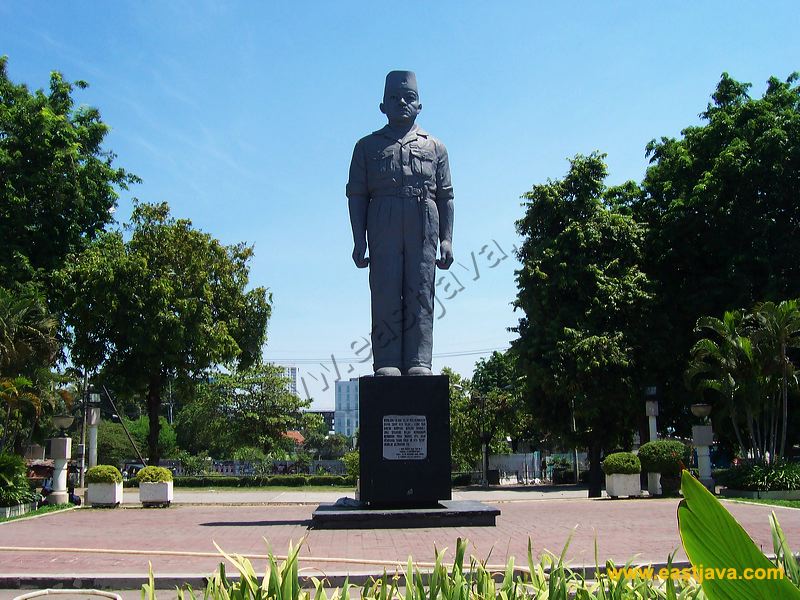 Statue Monument of Governor Suryo is the respect presentation to the first East Java Governor who had killed caused of PKI rebellion in Madiun 1948. This monument located in accurate Apsari Park Complex Gubernur Suryo Street in front of Grahadi State Building.
Under that statue, there is Speech inscription at November 9th 1945 on 23.00 Pm in Nirom Broadcast, Embong Malang Street Surabaya (Nowadays is JW Marriott Hotel), that written: "Repeatedly we have told that our position is better fallen to pieces than colonized again. Also now in face ultimatum of English, we will hold firmly this position. We still refuse the ultimatum".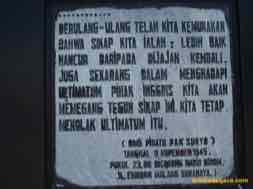 It had declared on 10 November 1979 by Governor of the Chief of Region I of East Java Soenandar Prijosoedarmo. This monument had built by the chief of Region II of East Java Drs. Moenadji Widjaja initiative and the participation of Surabaya public. Around this monument, applied as place of youngster gathering from various hobby clubs like motor devotee, car, etc, in the weekend. So invite the foods and drink merchants to take apart in it.
Recall Event of Madiun
Madiun event (Madiun Affairs) be a hardness conflict that happened in East Java in September - December 1948. This event had started with a proclamation of Soviet State of Republic Indonesia on 18 Septembers 1948 in Madiun by Muso, a whip Communist Indonesia with supported also by The Minister of Defense at that time, Amir Sjarifuddin.
At the same time there were abduction event of the elite figure in Madiun, also civil figure, government military and also religion figures. There were still controversies about this event. A number of people feel that PKI had masterminding this event but actually this event had engineering by New Era government (and some of Old Era perpetrators).
Help bargain from Dutch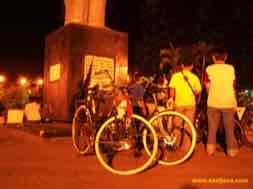 In the early of Madiun conflict, Dutch government pretense offer a help to put to rout the rebellion, but the bargain clearly refused by republic government of Indonesia. The head of Indonesia military even consider, Dutch would soon exploit the situation to do total attack to armed strength of the Republic of Indonesia. Of course the left group that include Amir Syarifuddin Harahap, had built the strength to face the Government RI, what alleged have tended to stand up for AS.
Background
After the proclamation of Indonesia independence by 17 Augusts 1945, emerge various organizations constructing their cadres, including left factions and Socialist faction. Besides merged into Pesindo (Indonesia Socialist Young Man), Indonesia Socialist Organization (PSI), there is also other left batches, for example Newsgroup Pecked, that initiative by Dayno, who live in Patuk, Yogyakarta. The follower of this newsgroup is not only from civil class like DN. Aidit, Syam Kamaruzzaman, but then also from military class and even some brigade commandants, for example Colonel Joko Suyono, Lieutenant Colonel Sudiarto (Brigade Commandant III, Division III), Lieutenant Colonel Soeharto (Brigade Commandant X, Division III. Then also become Commandant Wehrkreis III, and become President RI), Lieutenant Colonel Dahlan, Captain Suparjo, Captain Abdul Latief and Captain Untung Samsuri.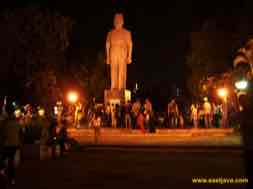 In May 1948 with Suripno, the Indonesia agent in Praha, Musso, return from Moskow, Rusia. Date of 11 Augusts, Musso arrive at Yogyakarta and soon occupy again position of the leader in Indonesia Communist Organization. Many socialist politicians and troop commander had joint forces with Musso, such as; Mr. Amir Sjarifuddin Harahap, dr. Setiajid, newsgroup Patuk, etc.
The actions of each other kidnap and kill taking its rise, and each party expressed, that other party was starting the action.
Many heroic TNI, heroic police, religion leader, religious marionettes in Madiun and its surroundings had kidnapped and murdered.
Date of 10 Septembers 1948, East Java Governor RM Ario Soerjo (RM Suryo) car and 2 cars of heroic police were interdicted by the follower of PKI in Ngawi. To the third people had murdered and their dead body thrown in forest. And so do dr. Muwardi from left faction, kidnapped and murdered. The accusation is thrown, that other party had doing the action.
Among who become the victim is Colonel Marhadi which his name is now immortalized with a Monument that stand in the middle of plaza Madiun city and name of main road in Madiun city.
Photo Gallery

Latest News
Indonesia is not only rich in cultural diversity. However, there are various historical stories from the city of Heroes, Surabaya. We can find stories about the history of this nation from movies, books, fairy tales, songs and even tourist spots. This of course makes Surabaya, a city with various stories. In addition to make visitors more familiar with the history of the Indonesian nation, Surabaya is a space for education and remember about what the beginning of the existence of Surabaya and all other unique buildings. Maybe from here, we…
---
When you arranging a vacation trip out of town, did any of you include the hero city of Surabaya on your visit list? It's likely that many of you will say no. This is because Surabaya is indeed not known as a tourist city. Even the residents themselves also admit that Surabaya City of Heroes has short destinations. Even though Surabaya is the second largest metropolitan city in Indonesia after Jakarta. Realizing the importance of the meaning of soul's relaxation for the Urban, who are daily filled with various kinds…
---
Impeccably designed, the spacious comfort, personalized services and extensive facilities, provided at Puri Darmo Serviced Residence offers you an opportunity to relax and enjoy your business travel, leisure vacation or relocation in Surabaya. The residence is designed for the international executive and family, with business and recreational facilities as well as educational facilities. Spacious and stylishly decorated, each apartment offers comfortable living as well as modern amenities. Ideal corporate housing for long or short-term project assignment in Indonesia, the residence offers a welcome and refreshing alternative to the hotel or…
---
Pondok Asri Guest House is a family guest house that located at Jl. Kalibokor Selatan 108 Surabaya. This family guest house is available for family or standard single guest, with valuable facilities like : Room Facilities :AC, TV, Phone, Bath Room / Showwer Laundry Service Room Service (16 Hours) General : Safe Deposit Box Credit Card accepted Breakfast, Lunch, Dinner Car for rent can be arranged upon request Extra Bed : Mattresses on the floor or ring extra bed For More Info, please contact: Pondok Asri Family Guest House Jl.…
---