Tourism Destinatons
Nature Destination
Culinary
Religious Destination
Historical Destination
Develope Destination
Handicraft Center
Traditional Destination
Nature Destination
Culinary
Handicraft Center
Religious Destination
Historical Destination
Develope Destination
Traditional Destination
Selo Leter Waterfall in Nganjuk Regency, East Java Province
---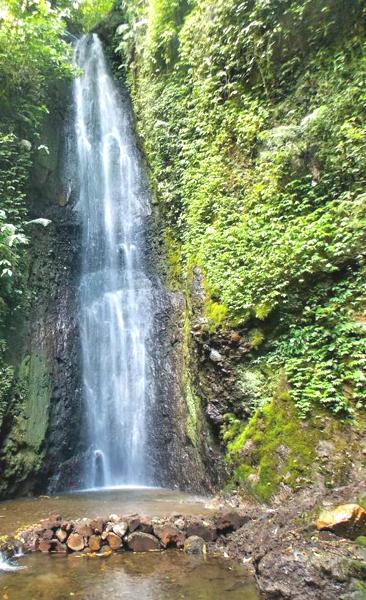 Nganjuk Regency has become another favorite vacation spot in East Java Province. One of the region's prime tourist allure is the complex of waterfalls that reside on a highland (Wilis Mountain). Sawahan Sub-District indeed becomes the right destination, which is the home of tons of amazing falls. For instance, there is Selo Leter Waterfall in Bendolo Village. Thanks to the locals. They have built a better route to access the location. No wonder, everyone can get to the site more comfortably these days. It is also located near to another secluded waterfall called Tetes Embun. That means tourists can enjoy two beautiful falls at once during the same day of the visit.
The Nuance
In terms of nuance, Selo Leter Waterfall offers a serene and refreshing nuance. It is considered a new vacation spot, as well, so the number of visitors remains low. Even though tourists come at noon, they won't suffer the heat of the sun at all. Thanks to the presence of shady trees and rejuvenating water. As for the appearance, the waterfall has a height of 40 meters and it has a moderate water discharge. The cliff is dominated by mold and bushes, as well. Under the waterfall, a small pond is located. Some rocks and stones also dominate that area.
Exploring Selo Leter Waterfall
Selo Leter Waterfall doesn't have a good popularity as compared to others. Despite the fact, it offers a distinct beauty. For instance, tourists are able to take advantage of the serenity to relax and get away from their busy lives. At least, they can rest for a while from daily routines and soothe their mind on the site. The only issue is related to the accessibility. For a simpler trip, in this case, it is recommended to hire a motorcycle taxi in order to reach the trekking point.
Aside from the serenity, Selo Leter Waterfall attracts tourists due to the trekking opportunity as well. The simple footpath is indeed available, but it remains challenging for first-timers or those who never visit a wild nature. Along the way to the waterfall, tourists may see a small river and lots of big trees. No wonder, this trip is going to be comfortable and interesting. It is also recommended to rest for a while by the river before continuing the trip.
Once arriving at Selo Leter Waterfall, tourists can enjoy several fun things right away. The most common one is photography. That means visitors would take some photos of the waterfall or other objects there. Another popular thing to do is bathing in the natural pond. Have no worries. The depth is shallow, so everyone can enjoy the activity safely. As for the water, it feels so refreshing and revitalizing.
Nearby Attractions

Gedangan Waterfall
Nongko Ijo Pine Forest
Ngliman Mountain
Kedung Malem Waterfall
Nawangsari Waterfall
How to Get There
Reaching Selo Leter Waterfall is easy, as long as tourists know the route. Also, they need to get to Nganjuk Regency first. From Surabaya City, in this case, a trip to Nganjuk usually takes around 2 hours and 3 minutes as the distance is 112 km. First, tourists must take Surabaya – Mojokerto Highway. Next, they can simply take Mojokerto – Kertosono Highway. Once arriving at the downtown, they may continue the trip and head to Selo Leter Waterfall at Bendolo Village. The distance is 37.7 km, so this trip would take around 1 hour and 13 minutes. In this case, the best route to take is Sawahan – Berbek Street.
Where to Stay

Istana Hotel
Nirwana Hotel

Latest News
  At the end of January 2016 ago, building temples like and three ancient statues have been found at excavation site that belonged to Nurul Wakhid (50) in the village of Banjarsari, District Ngronggot, Nganjuk, East Java. Buildings with a length of 2.7 meters, 2.1 meters wide and 1.7 meters high, is made of red bricks. Looking at the shape that similar to temple, the building is allegedly made during the Majapahit Kingdom that was used as a place of worship at the time.  The people discovering at the center…
---
Handmade Wooden Puppet Puppet is the famous traditional performance in Java island. There are many kind of Puppet, such as; human puppet, wooden puppet, leather puppet, etc. All of those puppets usually played in special event. Nganjuk is one of area that produces leather puppet. This kind of puppet is made of animal leather, such as; goat or deer. The processes of leather puppet are by choosing good leather, designed it as puppet, dried and begin to color. More Details www.eastjava.com
---
Ngetos Temple Candi Ngetos located at Ngetos village, Ngetos district about 5 kilometers to the south of Nganjuk town. There is an inheritance from the year of 859 Saka or 937 Masehi. This inheritance was made from the red bricks. On that place, Anjuk Ladang, the ancient inscription was also found. Near to this place, there is an historical ancient inheritance that was known by Candi Ngetos. According to the historian, based on that temple form, this temple has made in XV century (Majapahit era). Phisically, this temple has broken…
---
Hok Yoe Kiong Temple It was half century ago, the Chinese people in Nganjuk town was Kong Hu Cu. Unfortunately, there were not such appropriate temple to go to. The only thing left was the altar for The Honor of Kongco Tik Tjoen Ong, which was in China Gathering Hall, today's known as Dr. Soetomo Street, Nganjuk. Even though the condition of the temple was inappropriate, the Parish was large enough. Mr. Soen Boen Lee is one of the parishes who always come to pray to the temple. Since he…
---