Tourism Destinatons
Nature Destination
Culinary
Religious Destination
Historical Destination
Develope Destination
Handicraft Center
Traditional Destination
Nature Destination
Culinary
Handicraft Center
Religious Destination
Historical Destination
Develope Destination
Traditional Destination
Waduk Perning in Nganjuk Regency, East Java Province
---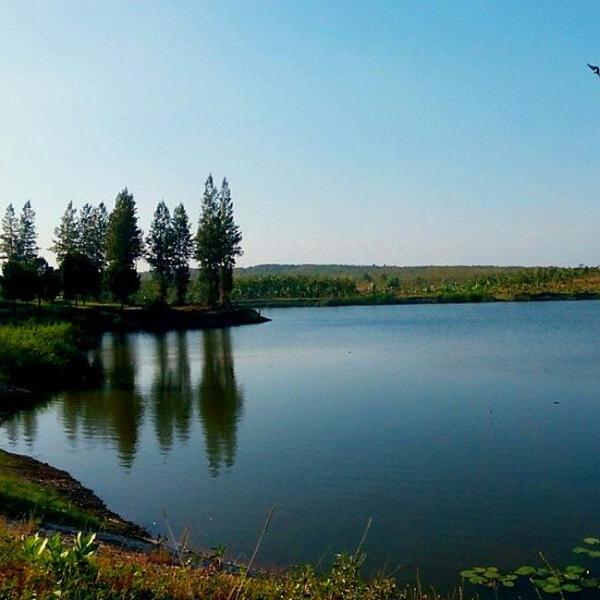 When visiting Nganjuk Regency, tourists are likely to find many great vacation spots to visit. In Jatikalen Sub-District, for instance, there is the famous Waduk Perning. As the name suggests, this water reservoir is located in Perning Village. The popularity is inferior to Sedudo Waterfall, but the number visitor is considered high. This explains outsiders and tourists often drop by before exploring other parts of Nganjuk. Despite the secluded location, the site has nice accessibility. What are other plus points? Visitors can do various things there. These include photography, motor cross riding, boat riding, fishing, relaxation, etc.
The Nuance
It is true that tourists need to spend some time and stamina in order to reach Waduk Perning. Have no worries. The tiredness goes away directly once tourists arrive at the location. Thanks to the beautiful panorama. The site features several natural attractions including neat hills, cypress forest, and local farms. A pier and simple facilities can be found on the site too. The pier is made of concrete, so it is quite sturdy and able to accommodate lots of people.
Exploring Waduk Perning
After undergoing a long trip to reach Waduk Perning, tourists can rest for a while on the pier or other comfy spots. Both the nuance and panoramas help them to relieve the tiredness, for sure. While resting, it is recommended to take photos and enjoy photography. Many beautiful objects are available to capture, after all. These include the water reservoir itself, hills, local farms, and nearby forest. Usually, tourists also take selfies while standing on the pier. Everyone should try it! As long as they come during good weather, they would be able to collect many photos there.
Aside from relaxation, sightseeing, and photography, tourists can do other things in Waduk Perning. For instance, they can rent a small boat and explore the water reservoir comfortably. For the information, this boat is able to accommodate 4 people! Thus, it is recommended to ride it either with friends or family members. For those who don't like water activities, in this case, they can choose other fun activities like motor cross riding. However, the rental fee is more expensive than the boat. That means tourists must come with more money if they want to enjoy the activity.
The next allure in Waduk Perning is the presence of a fishing area for tourists to use. In this case, visitors must carry their fishing rod and other required equipment. The number of fishes is considered high, but tourists must choose the right time for fishing. For instance, the result won't be nice if they come during bad weather or rainy seasons.
Nearby Attractions

Ngasem Village
Nganjuk Hot Spring
Millenial Park
How to Get There
From Surabaya City, tourists can simply head to Nganjuk Regency by taking two routes. First, they should take Surabaya – Mojokerto Highway. Next, they must take Mojokerto – Kertosono Highway and head to Nganjuk right away. For the information, the distance is 112 km. That means this trip may take around 2 hours and 3 minutes. From Nganjuk City, tourists can simply take Raya Madiun – Surabaya Street and head to Perning Village where the water reservoir resides.
Where to Stay

Shinta 1 Hotel
Budi Rahayu Hotel
Alta Home Center

Latest News
  At the end of January 2016 ago, building temples like and three ancient statues have been found at excavation site that belonged to Nurul Wakhid (50) in the village of Banjarsari, District Ngronggot, Nganjuk, East Java. Buildings with a length of 2.7 meters, 2.1 meters wide and 1.7 meters high, is made of red bricks. Looking at the shape that similar to temple, the building is allegedly made during the Majapahit Kingdom that was used as a place of worship at the time.  The people discovering at the center…
---
Handmade Wooden Puppet Puppet is the famous traditional performance in Java island. There are many kind of Puppet, such as; human puppet, wooden puppet, leather puppet, etc. All of those puppets usually played in special event. Nganjuk is one of area that produces leather puppet. This kind of puppet is made of animal leather, such as; goat or deer. The processes of leather puppet are by choosing good leather, designed it as puppet, dried and begin to color. More Details www.eastjava.com
---
Ngetos Temple Candi Ngetos located at Ngetos village, Ngetos district about 5 kilometers to the south of Nganjuk town. There is an inheritance from the year of 859 Saka or 937 Masehi. This inheritance was made from the red bricks. On that place, Anjuk Ladang, the ancient inscription was also found. Near to this place, there is an historical ancient inheritance that was known by Candi Ngetos. According to the historian, based on that temple form, this temple has made in XV century (Majapahit era). Phisically, this temple has broken…
---
Hok Yoe Kiong Temple It was half century ago, the Chinese people in Nganjuk town was Kong Hu Cu. Unfortunately, there were not such appropriate temple to go to. The only thing left was the altar for The Honor of Kongco Tik Tjoen Ong, which was in China Gathering Hall, today's known as Dr. Soetomo Street, Nganjuk. Even though the condition of the temple was inappropriate, the Parish was large enough. Mr. Soen Boen Lee is one of the parishes who always come to pray to the temple. Since he…
---