Watu Amben in Bantul Regency, Yogyakarta Special Region
---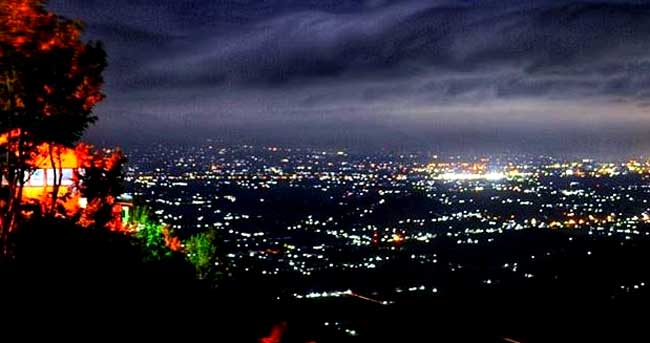 Visiting Bantul Regency in Yogyakarta Special Region would be a new experience for some people, especially those who live outside the region. In some cases, tourists even need the help of a local guide in order to find the best vacation spots later. Here is the reference. The name is Watu Amben and it is located in Piyungan Sub-District. The exact location is in Pandeyan Village and it becomes one of the best places to enjoy sightseeing, photography, and trekking. Due to increasing popularity, the site gets several improvements from the local government too. That means it has become a more comfortable place for both locals and outsiders these days.
The Nuance
In terms of name, Watu Amben is similar to Bintang Hill or Hargodumilah Hill. One thing that makes it different is definitely the fresher air and safer environment. It is because the hill is not located on the roadside, so tourists can safely enjoy exploration or trekking there. Another significant difference is related to viewpoint quality, which is considered wider. Watu Amben is one of the best peaks in Seribu Hills. It features some wooden huts where tourists can relax, too!
Exploring Watu Amben
There is no fee to enter Watu Amben, which is great for everyone. It hasn't become an official tourist site in Bantu Regency, after all. Still, tourists must carry some money, as they would spend it to buy foods and drink on the available food stands. Some local guides also work on the site, who offers guidance and information. It is said the words Watu Amben mean a bed of stone! According to the locals, the site was once used by royal families for resting on a highland.
It is true that Watu Amben doesn't have a vast size, but it is still able to accommodate many visitors. Moreover, the site even comes with some huts and traditional eateries. That means tourists can relax while enjoying delicious foods up there. Well, as for tourist activities, the most popular one is definitely sightseeing. The wide landscape and viewpoint help visitors to enjoy the activity better. Not to mention the air feels so refreshing up there!
Photography is also recommended, so everyone must carry a camera when visiting Watu Amben. Here is the tip. It is recommended to come in the afternoon for the romantic sunset. As an alternative, tourists must visit it at night! The panorama becomes more beautiful due to the sparkling houses and buildings on the horizon!
Nearby Attractions

Pengger Pine Forest
Gunung Wangi Peak
Wayang Hill
Bintang Hill
How to Get There
From Jakarta City, tourists can simply head to the Yogyakarta Special Region by airplane. A flight from Soekarno – Hatta International Airport to Adisucipto Airport would take around 1 hour and 10 minutes, actually. After they arrive at Yogyakarta, the next destination would be Bantul Regency and the best route to take is Imogiri Timur Street. The distance is 20.8 km, so this trip would take around 27 minutes. Later, after reaching Bantul, they can simply take Pleret – Pathuk Street and head to Watu Amben in Pandeyan Village at Piyungan Sub-District. For the information, this trip may take around 41 minutes, as the distance is 20.5 km.
Where to Stay

Adiluhung Homestay
Kalya Hotel
The Giant Frog Cabins