Pengger Pine Forest in Bantul Regency, Yogyakarta Special Region
---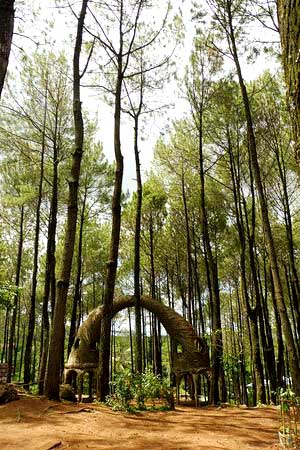 One of Bantul Regency's tourist allures is located in Pantirejo Village at Dlingo Sub-District. The name is Pengger Pine Forest! As the name suggests, the site offers a beautiful landscape of pine trees and comfy atmosphere for relaxation. The accessibility is considered good, so all tourists would be able to reach the pine forest without hassles. The next benefit for visiting the forest is related to the variety of activities. It is because visitors are able to do many fun things there, including outbound activities, photography, relaxation, sightseeing, and much more!
The Nuance
The size of Pengger Pine Forest is considered vast, so it would be able to accommodate lots of tourists. As for the nuance, it offers both shady and comfy atmosphere. The atmosphere of pine forest welcomes everyone right away! Aside from the pine trees, the site also has other types of plants actually. Still, the number of these minor plants is low. The unique part is that the management has modified the site by their creativity. It becomes more beautiful, therefore. Not to mention several facilities are available, including viewing posts, flower garden, hammock area, wooden stage (amphiteature), etc.
Exploring Pengger Pine Forest
In the past, Pengger Pine Forest was a dry and barren area. Thanks to the local government. They conducted reforestation and created a new vacation spot in that area. As time went by, the site turned into a shady and beautiful pine forest! In terms of function, the site has become a protected forest. In terms of tourism, it becomes a perfect area for photography and relaxation. Both local families and outsiders often gather in the forest to enjoy recreation, too!
The next common thing to do in Pengger Pine Forest is outbound activity. Tourists can simply explore the forest and do fun outdoor activities with other visitors. What is more? Camping also becomes a popular activity there! However, tourists must carry their tent and other equipment. It is because no facilities are available to provide those items. As an alternative, visitors can reach the hammock site and install a hammock on the trees for relaxation!
For those who want to enjoy sightseeing, they should climb the viewing post and watch a stunning panorama up there. The breezy wind even feels so refreshing up there. After that, tourists should reach a location where Bengkung Natural Spring resides! This spot usually becomes a background for a pre-wedding photo session, too! What is more? At night, the sparkling lights of Bantul Regency can be seen clearly from the forest! Isn't this great?
Nearby Attractions

Gebang Peak
Mungker Mountain
Watu Loncat
Gerigak Mountain
How to Get There
It is considered easy to reach Pengger Pinus Forest. Tourists only need to get to Yogyakarta Special Region first, especially by airplane. From Jakarta City (Soekarno – Hatta International Airport), a flight to Adisucipto International Airport would take around 1 hour and 10 minutes. It can be either less or more depending on the weather. After arriving at Adisucipto, tourists can simply take Imogiri Timur Street and head to Bantul Regency right away. The distance is 20.8 km, so this trip would take about 27 minutes. From Bantul, the last destination is the pine forest itself. This time, the trip may take around 33 minutes as the distance is 16.9 km. As for the best route, tourists must take Pleret – Pathuk Street.
Where to Stay

Griya Limasan
The Giant Frog Cabin
Adiluhung Homestay
Dika Jaya Homestay