Gajah Cave in Bantul Regency, Yogyakarta Special Region
---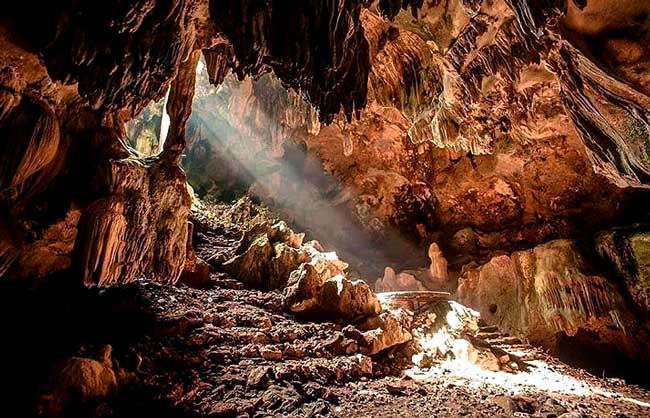 Well, it would take much time in order to visit all the tourist attractions in Bantul Regency. The majority of tourists only choose the southern beaches, for sure. Aside from exotic beaches, however, the region offers more attractive places including Gajah Cave in Dlingo Sub-District! Tourists only need to reach Mangunan or Lemahbang Village to visit this cave. That area has more than one cave and natural attractions, in fact. However, Goa Gajah is considered the most famous one. Visitors usually conduct photography and sightseeing in that area. Some people also visit the cave to learn history!
The Nuance
Gajah Cave was formed naturally and it features a secluded nuance. In terms of name, "Gajah" means an elephant. Well, the locals gave the name based on the presence of a unique rock that has a similar appearance to the animal. This elephant-like rock often becomes an object for photography. As for the type, Gajah is a horizontal cave and it has the depth of about 200 meters. Not to mention it features both stalactites and stalagmites. The next noticeable feature is the presence of a giant tree that grows from the tip of the cave to the exit cave. No wonder, it looks like a mini forest inside the cave! Still, the nuance is quite dark inside.
Exploring Gajah Cave
Gajah Cave is not the only attraction in Mangunan Village. It is because the village also has a famous fruit garden and pine forest. Despite the fact, the presence of the cave has become a significant factor that lures lots of tourists over time. As for tourist activities, there are many things to do there. For instance, it is as simple as photography. Visitors usually reach the unique rock that resides near to the mouth of the cave and takes photos of it. This stone has a similar shape to an elephant, after all.
The next recommended thing to do in Gajah Cave is none other than caving or exploration. Even though the nuance is dark and damp, tourists can use a flashlight when caving. In some cases, hiring a local guide becomes a good idea. Once getting in the cave, tourists would see majestic stalagmites and stalactites. Not to mention bushy plants and giant tree growing in it. No wonder, this caving would give a new experience for everyone!
The entrance of Gajah Cave has a horizontal shape, but it has a vertical exit. For the information, tourists need to use a ladder in order to get out of the cave. Later, before going home, tourists must consider visiting a nearby Gardu Pandang or viewing post first. The purpose is to enjoy the breezy wind and watch beautiful panoramas from there.
Nearby Attractions

Sri Gethuk Waterfall
Beteng Jatisari Peak
Mabur Lemahabang Peak
How to Get There
The first destination is the Yogyakarta Special Region. For outsiders, it is recommended to take an airplane in order to get there. From Jakarta City, for example, tourists can get an airplane at Soekarno – Hatta International Airport and head to Adisucipto Airport. This flight takes about 1 hour and 10 minutes, actually. From the airport, tourists' next destination is Bantul Regency and the route to take is Imogiri Timur Street. This trip may take about 27 minutes, as the distance is 20.8 km. From Bantul, the next destination is Mangunan Village where Gajah Cave is located. The distance is 9.3 km, so this trip takes approximately 20 minutes. As for the best route, it is either Imogiri – Dlingo Street or Mangunan Street.
Where to Stay

Griya Limasan
Dika Jaya Homestay