Parangendog Beach in Bantul Regency, Yogyakarta Special Region
---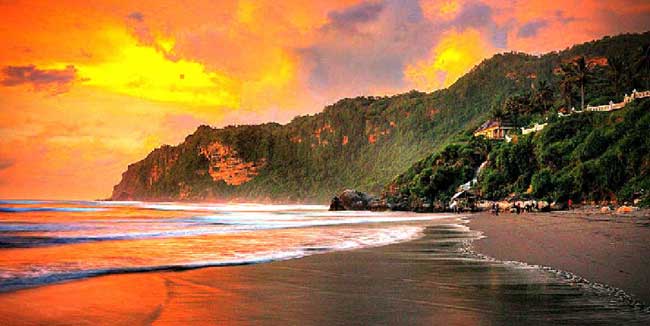 When visiting Bantul Regency, tourists can find a beautiful beach called Parangendog. This beach is located in Girijati Village and resides near to the border between Bantul and Gunung Kidul Regency. The location is in the south part of the region and it offers various allures to visitors. It also resides near to the famous Parangtritis Beach! No wonder, tourists often drop by to Parangendog after exploring Parangtritis. In terms of name, it derives from the word "Endog", which means eggs. The locals gave the name due to the presence of egg-like stones and rocks that are scattered on the shoreline, actually.
The Nuance
In terms of nuance, it resembles Parangtritis Beach. The shoreline is peaceful and features a comfy sandy landscape. The characteristics are different, though. The most noticeable feature is indeed the stones and rocks that have a similar shape to eggs. These are scattered in different parts of the shoreline. Next, the beach also features green hills where tourists can enjoy sightseeing better. Two famous spots are Watugupit Cliff and Seribu Mountains! Unlike Parangrtitis Beach, this one doesn't come with eateries or toilets. What tourists can find are only some benches that they can rent later.
Exploring Parangendog Beach
Beach walking and sightseeing become major tourist activities in Parangendog Beach. Visitors can simply walk around the shoreline while enjoying the sea scenery. For a better view, in this case, they should come at the right moment. For example, it is either in the morning or afternoon. Not only it gives them a more comfortable nuance, but it also offers either a wonderful sunrise or sunset. Another consideration is the best spot for sightseeing. Well, it is none other than the nearby hills.
Unlike other southern beaches, Parangendog Beach has calmer waves and more peaceful ambiance. This explains some tourists are likely to get in the water for swimming. As an alternative, tourists can enjoy fishing! They only need to carry a fishing rod and required equipment to enjoy the activity. Have no worries. The number of fishes is high, so it would be easy to catch many fishes during fishing.
Not many people are seen in Parangendog Beach, so it offers a nice atmosphere for relaxation. For a family who come with kids, they can also enjoy casual sports on the shoreline, especially beach soccer! For the information, the beach also has become an official area to conduct an annual paragliding event. Thus, tourists must find out the schedule and come at the right moment to watch the event!
Nearby Attractions

Parangtritis Waterfall
Watugupit Paralayang Hill
Watu Teguh Rock Fishing
How to Get There
Before heading to Parangendog Beach, tourists must reach Yogyakarta City first. For those coming from Jakarta City, in this case, they must take an airplane at Soekarno – Hatta International Airport and head to Adisucipto Airport. Have no worries. This flight only takes about 1 hour and 10 minutes. After arriving at Yogyakarta, tourists should head to Bantul Regency by taking Imogiri Timur Street. The distance is 20.8 km, so this trip takes about 27 minutes. From Bantul, they may continue the trip and head to Parangendog Beach right away by taking Parangtritis Street. This trip would take around 33 minutes, as the distance is 20.6 km.
Where to Stay

Queen of the South Beach Resort
Aditya Inn
Carolina Hotel