Tembelan Valley in Bantul Regency, Yogyakarta Special Region
---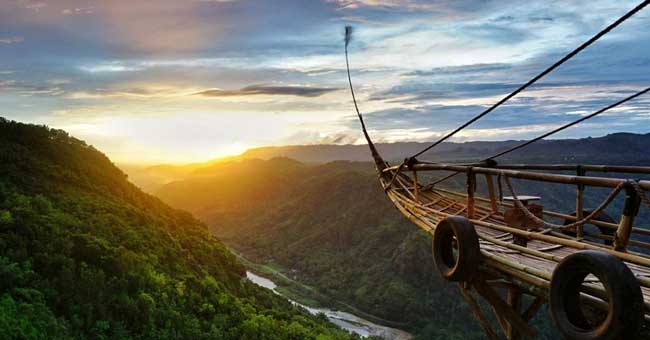 Southern beaches have become the best tourist allures in Bantul Regency. After exploring all these beaches, tourists can even use their remaining time to visit other attractive vacation spots like Tembelan Valley. This interesting place is located in Mangunan Village and belongs to Dlingo Sub-District. In terms of popularity, it is considered similar to the nearby tourist sites like Mangunan Viewing Post and Mangunan Fruit Garden. Thus, the valley combines well with those places and often becomes a tour package for both locals and outsiders. The best tourist activity in Tembelan Valley is indeed sightseeing or enjoying either a sunrise or sunset.
The Nuance
Tembelan Valley becomes one of the best spots to witness sun views, aside from Panguk Hill and Gardu Pandang Mangunan. The nuance has become more crowded over time, as the popularity is also increasing. The valley also features several facilities that tourists can enjoy, including viewing posts and outbound facility. There is even a unique wooden boat-like viewing post for sightseeing on the top of the hill. In fact, visitors can find a coffee stall in that area. As for the scenery, the hilly views and Elo River can be seen clearly up there!
Exploring Tembelan Valley
Tembelan Valley has attracted more outsiders these days due to an amazing nuance and panoramas. That means sightseeing and relaxation become two prime activities there. On weekends, in fact, the site becomes crowded as many local families gather in that area for recreation. They simply sit on the coffee stall and enjoy a warm coffee while watching the scenery. The best time to do so is in the early morning while waiting for the sunrise!
Watching either a sunrise or sunset becomes the next common motive for visiting Tembelan Valley! One thing, tourists must come at the right time. It is because the site is surrounded by thick fog sometimes. Not to mention rain often falls unpredictably during the rainy season, which tourists should avoid. That means it is recommended to visit the valley only during the hot season. Here is another consideration. Tourists must carry a camera to the site, for photography and collect great natural pictures during the exploration.
The next interesting allure in Tembelan Valley is the presence of a special downhill track for either mountain biking or motor crossing. Later, before going home, tourists must not forget to drop by at the famous Mangunan Fruit Garden, Elo River, and Mangunan Viewing Post! The locations are quite near, after all.
Nearby Attractions

Panguk Kediwung Hill
Gajah Cave
Mojo Gumelem Hill
Lepo Dlingo Hill
Mangunan Fruit Garden
Elo River
How to Get There
The prime destination would be the Yogyakarta Special Region. For those coming from outside the region, in this case, it is recommended to take an airplane to get to the destination. For example, from Jakarta City, tourists should take an airplane at Soekarno – Hatta International Airport and head to Adisucipto Airport right away. This flight usually takes around 1 hour and 10 minutes. Later, after arriving at Yogyakarta City, the next destination would be Bantul Regency. This trip usually takes about 27 minutes, as the distance is 20.8 km. For a faster trip, it is recommended to take Imogiri Timur Street. From Bantul, tourists can head to Tembelan Valley right away. The best route to take is Imogiri – Dlingo Street and the distance is 7.8 km. That means this trip would take around 19 minutes.
Where to Stay

Griya Limasan
Dika Jaya Homestay