Tuwondo Waterfall in Bantul Regency, Yogyakarta Special Region
---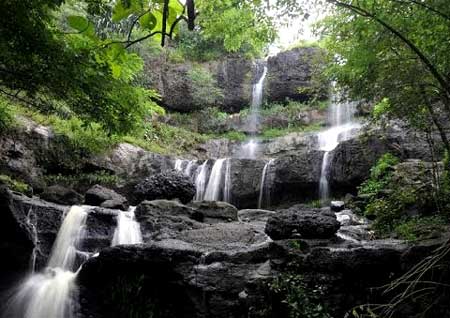 Bantul Regency offers many nice places to enjoy an adventure and exploration. Visiting beautiful natural attractions like Tuwondo Waterfall is a good thing, as well. Tourists only need to reach Sitimulyo Village at Piyungan Sub-District in order to reach the waterfall. The location is near to a rural area, so it is considered safe for everyone including those who never visited a wild nature before. For the information, the waterfall is located on the slope of a hill. That means tourists can take advantage of the trip to enjoy trekking and sightseeing, too.
The Nuance
All tourists would be astonished by Tuwondo Waterfall's beauty and nuance. In terms of name, it comes from two words. "Tu" or "Watu" means stones while "Ondo" means stairs. As the name suggests, the site features some layers of stones that look similar to stairs. The waterfall has three levels and it two water discharges. These water discharges have the approximate height of 3-5 meters! In that area, tourists may find bushes and trees too! Not to mention rocky landscapes accompany everyone along the way to the site. Most of these are limestone and andesite.
Exploring Tuwondo Waterfall
Due to increasing popularity, Tuwondo Waterfall gets better attention from the locals. These people have built a parking area and other facilities, including eateries and small food vendors. The only thing to consider is related to the slippery route, so everyone should walk carefully when heading to the waterfall. The first thing to do once arriving at the waterfall is none other than sightseeing. Visitors would appreciate the beauty and take photos of the waterfall, for sure.
Even though Tuwondo Waterfall features a natural pond, the size is not big. That means tourists won't feel comfortable when bathing or swimming in it, especially when the number of visitors is high. As an alternative, tourists can explore the site and get to higher ground! This helps them to enjoy a more beautiful panorama from above. As mentioned before, the waterfall has three levels and two water discharges. Each level even offers a distinct beauty! Plus, the presence of teak trees and lush bushes would add a better comfort to the site.
It is true that Tuwondo is a seasonal waterfall. That means the beauty comes the best only during the rainy season. For the information, people often took advantage of the water to bathe their cattle back then. However, villagers don't do this anymore. Instead, the site has become a new tourist allure that even attracts outsiders!
Nearby Attractions

Pengger Pine Forest
Grojogan Tuwondo
Becici Peak
Balong Waterpark
Banyu Nibo Waterfall
Bintang Hill
How to Get There
Those who come from outside the region should consider taking an airplane to reach Yogyakarta City. From Jakarta City, a flight from Soekarno – Hatta International Airport to Adisucipto Airport would take around 1 hour and 10 minutes. After arriving at the destination, tourists should take Imogiri Timur Street and head to Bantul Regency right away. The distance is 20.8 km, so this trip is going to take around about 27 minutes. Once reaching Bantul, the next trip takes around 35 minutes and the destination is Sitimulyo Village where the waterfall is located. The distance is 15.9 km and the best route is Manding Imogiri Street.
Where to Stay

Dika Jaya Homestay
Setro Kariyo Homestay
Graha LPP Pramindo Inn
Pendopo Kayumanan