Grojogan Lepo Dlingo in Bantul Regency, Yogyakarta Special Region
---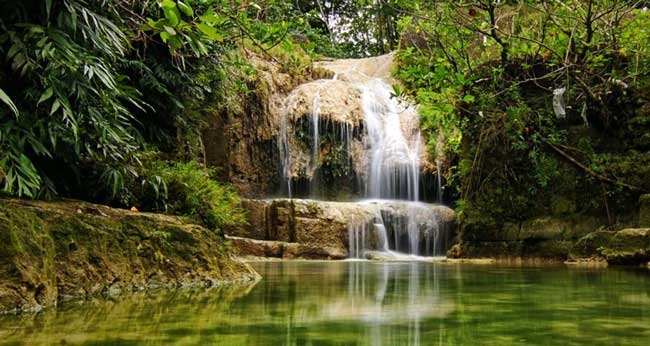 Exotic southern beaches have made Bantul Regency a favorite vacation destination for those who visit the Yogyakarta Special Region. Despite the fact, the region has more than those beaches. For instance, it has several amazing waterfalls for tourists to visit. One of them is located in Pokoh Village of Dlingo Sub-District. The name is Lepo Dlingo Waterfall or the locals often call it Grojogan Lepo Dlingo. There is even another name, which is Ledok Pokoh Waterfall! The pristine and serene environment becomes the prime allures there. Not to mention it has some unique characteristics.
The Nuance
As mentioned before, the nuance is both peaceful and pristine. It is because the waterfall is located in a secluded area, which is in the midst of lush nature. In terms of appearance and characteristics, it is considered similar to that of Erawan Falls' in Thailand. The height is moderate and the water discharge is low. Below the waterfall, a beautiful milky natural pond resides. Plus, the water is both fresh and clean! The depth of this pond is only about 0.5 meters! Due to the popularity, in fact, the locals take good care of the site and arrange some layered stones near to the waterfall, which helps tourists to climb and explore the site better.
Exploring Grojogan Lepo Dlingo
Visitors can do many things in Grojogan Lepo Dlingo. For instance, it is sightseeing. They simply sit by the waterfall and watch its beauty. However, almost all tourists are likely to get in the natural pond for either swimming or bathing. As mentioned before, the depth is shallow, so it is quite safe for everyone including kids. The waterfall is also surrounded by limestone cliffs that come with a unique texture. No wonder, it feels so comfy when bathing under it.
Those who visit Grojogan Lepo Dlingo also have other preferences when visiting the site. For example, it is an exploration. They simply walk around the site and explore it thoroughly. In the second level, the landscape is steeper and more slippery. Thus, all tourists must be careful when walking on it. In the second level, there is even another natural pond for swimming and bathing! One thing, it features more beautiful rocky cliffs!
The lowest level of Grojogan Lepo Dlingo has a deeper natural pond, which is suitable for adults. The depth is around 2 meters, so kids should reconsider to get in it. Here is the best news! The waterfall never runs out of water regardless of the season, including the rainy season. Another important info is that the site is good enough for camping!
Nearby Attractions

Sri Gethuk Waterfall
Becici Peak
Rancang Kencono Cave
Mbetowo Cave
How to Get There
From Jakarta City, tourists only need to take an airplane at Soekarno – Hatta International Airport and head to Yogyakarta City (Adisucipto Airport) right away. Normally, this flight would take around 1 hour and 10 minutes. From Yogyakarta, their next destination is Bantul City. This trip usually takes around 27 minutes, as the distance is 20.8 km. For a faster trip, it is recommended to take Imogiri Street, though. Next, from Bantul, tourists must head to Pokoh Village at Dlingo Sub-District, where the waterfall is located. This time, the trip would take about44 minutes and the best route to use is Imogiri – Dlingo Street.
Where to Stay

Griya Limasan
The Giant Frog
Dika Jaya Homestay