Pandansimo Beach in Bantul Regency, Yogyakarta Special Region
---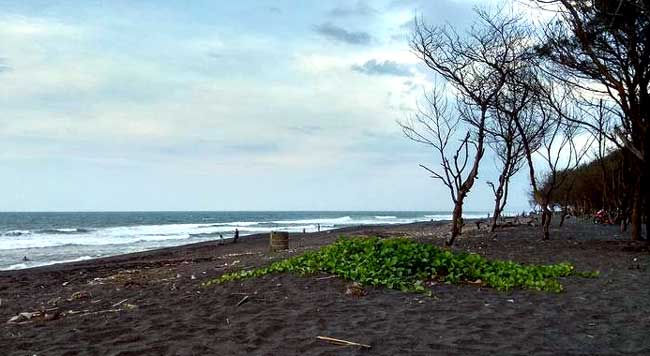 Visiting southern beaches indeed becomes a prime objective when spending a vacation in Bantul Regency. The option is many, so tourists can choose some that suit their preference. As for the reference, there is Pandansimo Beach in Srandakan Sub-District. The exact location is in Poncosari Village and it resides in the southwest of Bantul. Also, the beach resides beside Progo River estuary. The fact is that Pandansimo becomes the westernmost beach! In terms of name, it derives from two words. "Pandan" means a Pandanus Tree and "Simo" means a tiger. Aside from enjoying the beauty, people often come to the beach for watching a ritual and do other fun activities during holidays!
The Nuance
Once arriving at Pandansimo Beach, tourists would hear the loud noise of waves right away. Like other southern beaches, this one comes with strong and fierce waves, for sure. That means swimming is not allowed there. The nuance is a little bit mystical due to the presence of sacred spots. This explains why some locals are often seen on the site, doing rituals. The next noticeable feature is none other than a group of fishermen who work on their boat. These people even sell fresh fishes directly to visitors! Tourists can buy some, therefore.
Exploring Pandansimo Beach
The first thing to enjoy in Pandansimo Beach is definitely the sea scenery. Tourists can simply sit by the shore and watch the amazing waves and feel the strong waves. As an alternative, they can conduct beach walking and photography. Next, it is recommended to come at the right time! Why is that? At those times, tourists would meet some villagers who conduct some unique rituals like Larung Laut and Merti Dusun. Sometimes, these people even conduct arts performances on the site!
Pandansimo Beach's next allure is the presence of windmills. These buildings often become a background for photography and selfies. It requires some time to reach the location, though. As for the best time, it is recommended to come during good weather and when the wind blows swiftly. At those times, the windmills work more beautifully! For those who want to feel a different nuance, they must come at night, though. At this time, villagers often come to the beach for pilgrimage and performing rituals!
For the information, in the past, Pandansimo Beach featured many fishermen houses. The number of these houses decreased over time, though. Instead, lots of Cemara Udang tree start growing! Also, local fishermen work almost every day and sell some fishes directly to visitors on the beach.
Nearby Attractions

Goa Cemara Beach
Baru Beach
Kuwaru Beach
Gemaku Rindang Beach
How to Get There
For those coming from Jakarta City (the capital of Indonesia), they can simply head to Yogyakarta Special Region by airplane. For the information, a flight from Soekarno – Hatta International Airport to Adisucipto Airport would take around 1 hour and 10 minutes. After arriving at the destination, tourists must head to Bantul Regency right away by taking Imogiri Timur Street. This trip is likely to take around 27 minutes, as the distance is 20.8 km. From Bantul, the next destination is Poncosari Village at Srandakan Sub-District where Pandansimo Beach is located. The distance is 23.2 km and the best route to take is Srandakan Street. Approximately, this trip takes around 33 minutes.
Where to Stay

Puri Brata
New Yogyakarta Homestay