Depok Beach in Bantul Regency, Yogyakarta Special Region
---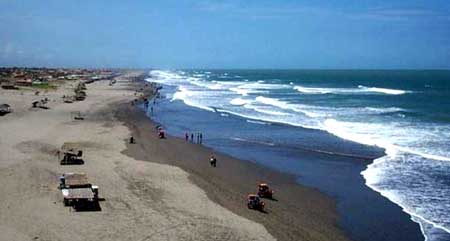 Bantul Regency in Yogyakarta Special Region is known for its beautiful southern beaches. One of them is called Depok Beach, which is located in Kretek Sub-District. The exact location is in Parangtritis Village and it resides near to the famous Parangtritis and Parangkusumo Beach. Each of these beaches indeed offers a distinct beauty and nuance. What about Depok Beach? It is known for the great waves, culinary, fishermen boats, and strong wind. As for tourist activities, visitors usually enjoy beach walking, eating seafood, photography, sightseeing, and family recreation. Well, here is further discussion about the beach.
The Nuance
Like its neighboring beaches, Depok Beach features a black sandy shoreline. The texture is soft and it feels warm on the feet even at noon. The beach, though, only has a few plants. What tourists can find is the group of parked fishermen boats on the shoreline. Some colorful beach umbrellas also reside in that area, which tourists often use for sitting and relaxation. What is more? The beach features nice facilities like traditional eateries, homestays, tent rental service, toilets, and much more. Well, more important features are definitely the strong wind and fierce waves!
Exploring Depok Beach
As mentioned before, Depok Beach has a similar characteristic to its siblings. The southern beaches of Java Island mostly come with fierce waves. That means it is not safe for swimming or other water activities. Despite the prohibition, some tourists often play on the tip of the shore, though. This explains why the management has employed some lifeguards on the site for the sake of tourists' safety. Actually, many safer and more interesting activities can be done there. For instance, it is to fly a kite! The strong wind makes the activity enjoyable, for sure.
The next common thing to do in Depok Beach is a family recreation. Visitors can simply roll a mat and sit under the colorful umbrella. What is more? Photography would be the next recommended thing to do there. Tourists can simply take photos of the sea or other objects on the site, including parked fishermen boats and the crowd. There is even a fish auction center, which also becomes a good object for photography. The only preparation is the camera. Also, it is recommended to visit the beach only during good weather, in order to avoid rains.
Another allure in Depok Beach is related to the culinary. Thanks to the seafood and traditional eateries located near to the shoreline. Tourists can enjoy various types of seafood including shrimps, grilled fish, and crabs. Not only they are delicious, but they also come at a cheap price.
Nearby Attractions

Opak River
Cemara Forest
Rainbow Beach
Baros Mangrove
How to Get There
For outsiders, it is recommended to reach the Yogyakarta Special Region by airplane. From Jakarta City, for example, a flight from Soekarno – Hatta International Airport to Adisucipto Airport would take around 1 hour and 10 minutes. After arriving at the destination, tourists should take Imogiri Timur Street and head to Bantul Regency immediately. The distance is 20.8 km, so the trip would take about 27 minutes. From Bantul, their next destination is Kretek Sub-District where Depok Beach is located. The distance is 17.6 km and the best route is Parangtritis Street. For the information, this trip would take around 25 minutes.
Where to Stay

Budi Inn
Puri Brata
Gandung Hotel
Family Syariah Hotel