Baru Beach in Bantul Regency, Yogyakarta Special Region
---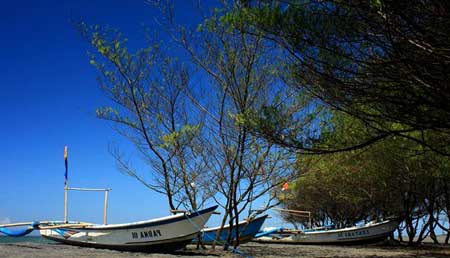 Southern Beaches of Bantul Regency in Yogyakarta Special Region always become an interesting destination to spend a vacation with families. One of those beaches is called Baru Beach, which is located in Srandakan Sub-District. The exact location is in Poncosari Village and it is considered more secluded than other nearby beaches. Moreover, it is inferior to Krakal or Parangtritis Beach when it is about popularity. Despite the fact, the beach offers a distinct uniqueness! Tourists can also conduct beach hopping easily to Kuwaru and Pandansimo Beach, as the location is close to each other.
The Nuance
As mentioned before, Baru Beach is known for its seclusion. That means tourists can enjoy a peaceful atmosphere during the visit. As for the features, the most noticeable one is definitely the wind power plants. Everyone may see many of these objects along the way to the beach, in fact. A route to the beach also feels so empty! Tourists can only see brown bushes and sand dunes on both sides of the road. Next, the beach also features some cypress trees that grow on some parts of the shoreline. Those trees provide a shady spot for relaxation, without a doubt. What is more? Another significant feature is a monument that comes with a tiger and whale shark statue! It often becomes an object for photography, as well.
Exploring Baru Beach
Despite the inferior popularity, Baru Beach still has a lot of visitors on weekends and holidays. Many tourists want to explore new places and get a distinct nuance during a vacation, after all. Well, in terms of name, "Baru" means new. It is because Baru Beach is one of the newest tourist sites in Bantul Regency. In fact, the inauguration was in 2010! The location is near to some famous places like Progo River estuary, Kuwaru Beach, and Pandansimo Beach. Thus, tourists are able to reach the site without hassles due to easy accessibility.
One of the best allures in Baru Beach is indeed the group of hybrid power plants. These objects look majestic and beautiful, especially due to their propellers. Not to mention these reside in the midst of lush bushes. Thus, it is recommended to take photos of them while exploring the beach later. The next impressive allure is the presence of Cemara Udang (cypress) Trees! Tourists can simply take photos in front of these trees or sit comfortably under them.
Sitting on a mat under the trees and sleeping in a hammock are two best ways to relax in Baru Beach. Those who carry some money can rent an ATV, though. With this vehicle, they can explore the shoreline in a more unique way. What is more? It is recommended to reach the monument and conduct photography there. Thus, don't forget to carry a camera when visiting the beach!
Nearby Attractions

Pandansimo Beach
Goa Cemara Beach
Kuwaru Beach
Gemaku Rindang Beach
How to Get There
From Jakarta City, tourists can get to Yogyakarta City fast by airplane. For the information, a flight from Soekarno – Hatta International Airport and head to Adisucipto Airport usually takes about 1 hour and 10 minutes. After they arrive at Yogyakarta City, the next destination is none other than Bantul Regency and the best route to take is Imogiri Timur Street. This trip would take around 27 minutes, as the distance is 20.8 km. Once arriving at Bantul Regency, they can head to Baru Beach, which is located in Poncosari Village. The distance is 19.3 km, so the trip is likely to take around 26 minutes. As for the best route, it is recommended to take Srandakan and Pandansimo Street.
Where to Stay

New Yogyakarta Homestay
Puri Brata