Tembi Village in Bantul Regency, Yogyakarta Special Region
---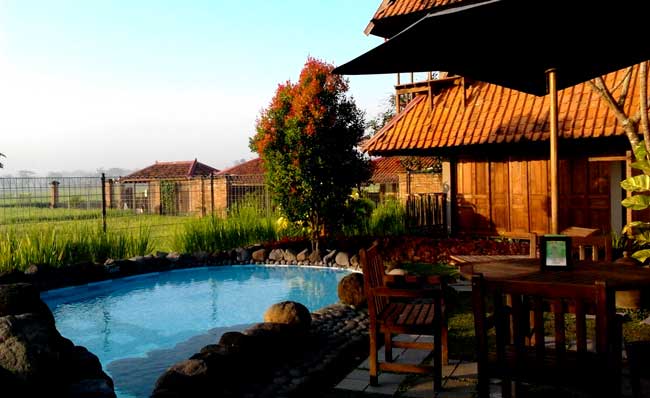 Just because Bantul Regency is known for its exotic southern beaches, doesn't mean it has limited choices. Other amazing vacation spots are available in that region, after all. It can even be as simple as Tembi Village in Sewon Sub-District. This tourist village has become more popular these days, especially among those who love nature and peaceful rural life. The first recognition was in 2007 and it offers a pristine environment and rural experiences to visitors. No wonder, many citizens and outsiders want to relieve stresses by spending some time there.
The Nuance
Well, the nuance is definitely comfortable and peaceful. Once tourists arrive at Tembi Village, they can only enjoy a serene rural ambiance. The locals live in a simple way and most of them are farmers. Many green farms and various types of plants reside in that area. Some villagers are often seen on the farms, plowing the soils with buffalos too! Not to mention the village features a famous place called Tembi House of Culture, which tourists can visit later. The next noticeable feature is the presence of some traditional eateries that provide delicious local foods and drinks! Visitors don't need to worry about foods, for sure.
Exploring Tembi Village
Some tourists may wonder what they can do in Tembi Village. Well, the simplest one is to enjoy the pristine environment. The village offers a peaceful rural atmosphere, after all. For the best nuance, it is recommended to approach the local farms and sit on the hut. To be exact, this must be done early in the morning for fresher air and more relaxing atmosphere. The air quality is way much better as compared to that of big cities, without a doubt.
For those who are not afraid of getting dirty, they can also learn how to plant and harvest paddies. However, it requires the concern of the owner of the farm! Aside from these fun activities, tourists must join local farmers who plow their farms with buffalos! It is even possible to ride those animals during the plowing. Well, those who are not into dirty activities should meet some Batik artists and learn how to paint on traditional fabrics.
Culinary becomes the next allure in Tembi Village. The combination of traditional foods and comfy rural nuance would be quite satisfying. It even beats all foods in the cities! After that, tourists can ride traditional vehicles and explore nearby interesting spots like Manding and Gabusan. The mist recommended rides are Andong and Becak! However, it costs some money to ride one, so everyone must prepare enough money during the visit.
Nearby Attractions

Grand Puri Waterpark
Gabusan Art Market
Cabeyan Garden
Selarong Cave
How to Get There
Before reaching Tembi Village, tourists should get to Yogyakarta Special Region first. For those coming from outside the region, in this case, they must consider taking an airplane to get to the destination. For example, a flight from Jakarta City (Soekarno – Hatta International Airport) would take around 1 hour and 10 minutes. The destination is definitely Adisucipto Airport at Yogyakarta City. After arriving at the airport, the next destination would be Bantul Regency and the best route to take is Imogiri Timur Street. The distance is 20.8 km, so this trip may take around 27 minutes. From Bantul, the next trip takes about 12 minutes and the destination is none other than Tembi Village at Sewon Sub-District. For the information, the distance is 5.1 km and the best route to take is Sugiyo Pranoto Street.
Where to Stay

Omah Tembi Homestay
Omah Lila
Bugis Homestay
Prawiratama Homestay
Dinaya Homestay