Kapuas
---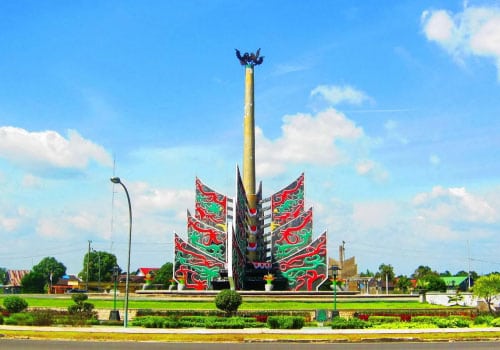 Kualakapuas is the capital of the Kapuas regency, south of Palangkaraya, on the Kapuas River 40 kilometers from Banjarmasin. A well-known tourism attraction is 'Telo' Island, a fishing village and port. It is a pleasant location for recreation. For the adventurer, white water rafters and nature lovers, there is Gohong Rawai, which known for its beautiful and challenging rapids. The gold mines of Teweh and Batu Api, Rungan district, are also interesting places to be visited. In this region, gold mining is a major source of livelihood for the people, who pan for the valuable metal using the old traditional method. Gold mines are found in many places in Central Kalimantan.
TOURISM OBJECTS BATU SULI AND BATU TINGKES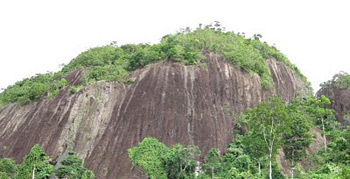 Batu Suli is a steep hill in Khayan riverbank with natural scenery, which is originally and fascinates trees ruthless. In Batu Suli culminate; there is a boosting big stone upward with incline position called Batu Antang or Batu Tingkes. This tourism object is located in Upun Batu Teweh district.
HAMPUTUNG RIVER
This tourism object located in North Kahayan Hulu region which is a river line that covered with trees with its ruthless in left and right side of the river, the clear water hardly suited for tourism adventure.

Latest News
Orangutan Tour Orangutan Tour is one of tour and travel company based on Central Kalimantan, Indonesia. Under the flag of PT. Borneo Lestari Tour and Travel, Orangutan Tour will guide you to explore Borneo with its natural beauty and culture. Located in Pangkalan Bun, Central Kalimantan offer you to have some tour package like enjoying houseboating, floating market or Dayak tour. The facilities are included the accommodation, transportation and everything you need during your visit. The mission is to provide you all the best services that is needed and expertise…
---
Kubu Beach is located in Kubu District, West Kotawaringin Regency, Central Kalimantan Province. This beach is the fishermen area and facing of Java Ocean. This beach has white-brownish sand beach and becomes one of favorite tourism destinations in Pangkalan Bun. This place also quite good for you who wants to go into seclusion from noisy of the cities. Water on this beach colored brownish caused by peat forest near from the beach. When you are here, you can try banana boat. To enjoy it, you have to entering from entrance…
---
  Since 1994, they have spent most of their  life as field guides deep in the jungle and river of Borneo, with this years experiences also they are growing up in the fields as Wildlife and Culture tour guides, which know well about the adventure in Borneo and supported by their impressive and solid background of the team with depth and breadth of knowledge and experiences in the rain forest and animals, especially Orangutan. The teams are also have been voluntary for Orangutan for few years. Their adventures tour packages…
---
Orangutan Green Tours is one of Borneo tour agent who will help the visitors enjoy a trip to the forest and introduce the Borneo Orangutan to the visitors. OrangutanGreenTours (OGT), specially dedicated traveling to the Orangutan and Unique wildlife, indigenous people, Community and Nature conservation based tours, Eco-tourism destination around Borneo and Indonesian parks. OrangutanGreentours will lead you to Borneo homeland which known as The third largest island after Greenland and New Guinea. Borneo was cover 746,309 sq km bigger than Texas and Oklahoma combined five time the area of…
---