Tahai Lake
---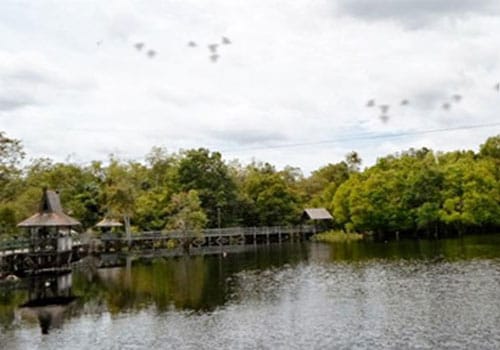 Tahai Lake is a small lake located in Tahai village, Tumbang Tahai Village, Bukit Batu district, located about 29 Km from Palangkaraya town. It is very easy to reach this lake, takes only 30 minutes either by using two-wheel vehicles either four-wheel vehicles.
Tahai comes from Dayak language, means lake. Based on the community mythology, Tahai lake formed from sand excavation that turn to water logging, so it does not flow to the next river. There are many Tahai in Central Kalimantan, but Tahai Lake is the most popular lake. This lake, with dense forest feel, bridge over the lake, the water wagon, some huts to remove your fatigue and facilitated with several lodges.
Another special thing of Tahai Lake is the wooden bridge that surrounded this forest area, so that the visitors do not have to worry about waterlogged peat. In the forest, visitors can enjoy the cool and fresh air while listening to the jungle birds chirp sweetly. If you're lucky, visitors can also meet with uwak-uwak, one of rare species of monkeys which are protected by the government and exist only in this region.
Tahai lake has special unique thing that cannot found in others lakes (especially outside of Kalimantan island), the red water caused by tree roots in peat. Around the lake, visitors can also see a unique sight, ie there are many floating houses that the locals referred to as Lanting home.

Latest News
Orangutan Tour Orangutan Tour is one of tour and travel company based on Central Kalimantan, Indonesia. Under the flag of PT. Borneo Lestari Tour and Travel, Orangutan Tour will guide you to explore Borneo with its natural beauty and culture. Located in Pangkalan Bun, Central Kalimantan offer you to have some tour package like enjoying houseboating, floating market or Dayak tour. The facilities are included the accommodation, transportation and everything you need during your visit. The mission is to provide you all the best services that is needed and expertise…
---
Kubu Beach is located in Kubu District, West Kotawaringin Regency, Central Kalimantan Province. This beach is the fishermen area and facing of Java Ocean. This beach has white-brownish sand beach and becomes one of favorite tourism destinations in Pangkalan Bun. This place also quite good for you who wants to go into seclusion from noisy of the cities. Water on this beach colored brownish caused by peat forest near from the beach. When you are here, you can try banana boat. To enjoy it, you have to entering from entrance…
---
  Since 1994, they have spent most of their  life as field guides deep in the jungle and river of Borneo, with this years experiences also they are growing up in the fields as Wildlife and Culture tour guides, which know well about the adventure in Borneo and supported by their impressive and solid background of the team with depth and breadth of knowledge and experiences in the rain forest and animals, especially Orangutan. The teams are also have been voluntary for Orangutan for few years. Their adventures tour packages…
---
Orangutan Green Tours is one of Borneo tour agent who will help the visitors enjoy a trip to the forest and introduce the Borneo Orangutan to the visitors. OrangutanGreenTours (OGT), specially dedicated traveling to the Orangutan and Unique wildlife, indigenous people, Community and Nature conservation based tours, Eco-tourism destination around Borneo and Indonesian parks. OrangutanGreentours will lead you to Borneo homeland which known as The third largest island after Greenland and New Guinea. Borneo was cover 746,309 sq km bigger than Texas and Oklahoma combined five time the area of…
---