Tanjung Puting National Park
---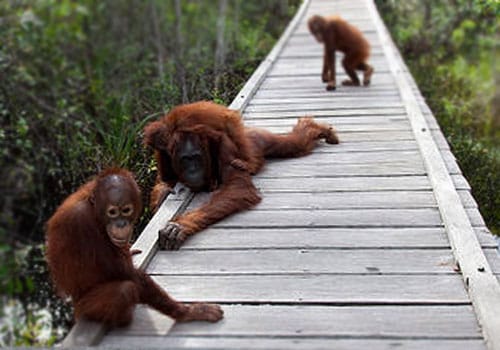 Tanjung Puting National Park is a national park located in Central Kalimantan peninsula. Tanjung Putting National Park is the largest orangutan conservation in the world with an estimated population of 30,000 up to 40,000 orangutans are scattered in National Park and also outside Tanjung Puting National Park. Besides Tanjung Puting National Park is also designated a Biosphere Reserve in 1977 with a core area of Tanjung Puting National Park covering an area of 415,040 hectares were set in 1982.
With the status of national park and biosphere reserve, Tanjung Puting National Park can be maintained continuity and became one of tourist attractions in Indonesia, in contrast with the other conservation of orangutans of Borneo we see orangutans in human made habitats. Another case in Tanjung Puting National Park we can see directly the natural habitat of orangutans lives and look directly in the wild. Tanjung Puting is initially a nature reserve and wildlife reserves with a total area of 305,000 hectares.
To reach Tanjung Puting National Park the visitors can use Klotok boat, Klotok is fairly comfortable accommodations, Klotok loading passengers 7 up to 12 people. The boat pace is not too fast, so that we can enjoy the atmosphere of Sekonyer river along the road river. With this ship passengers can enjoy the sunset, firefly and wild animals are sometimes seen in the bank of river.
Most visitors of Tanjung Putting National Park are foreign tourists, because of many foreign tourists who come here to make people Pangkalan Bun and National Parks further improve their services. One example is when we use Klotok not inferior to five-star hotel services, guide and boat captain were friendly.
High season in Tanjung Puting National Park cause full booked of Klotok boat, in July to August is the high season period because it coincided with the number of public holidays and school. Along down Sekonyer river we can see monkeys swinging from one tree to another. These forests are home to eight species of primates. Including monkeys who has a long nose (proboscis), with a long nose surrounding communities call with monkeys Netherlands (monyet belanda). When down Sekonyer river to the place attractions in Tanjung Putting National Park beware of crocodiles, they are difficult to see but they exist around the river.
One of the interesting places in Tanjung Puting is Camp Leakey that is Orangutans preservation. Indeed before heading to Camp Leakey camp, there are other camps such as Tanjung Harapan, Pondok Tanggui, Pondok Ambung Camp, and the last is Camp Leakey. This camp is the largest and was built in 1971. This place is a refuge location orangutans rescued from illegal hunting. Nowadays this camp is known as a center for the study of orangutans. We can learn about orangutan at the information center Camp Leakey. In addition to the Pondok Tangui also a rehabilitation center for orangutan had been arrested. Both of this preservation center, you will get a chance to see these amazing primates up close and learn more about how we can protect endangered species from Borneo Island.

Latest News
Orangutan Tour Orangutan Tour is one of tour and travel company based on Central Kalimantan, Indonesia. Under the flag of PT. Borneo Lestari Tour and Travel, Orangutan Tour will guide you to explore Borneo with its natural beauty and culture. Located in Pangkalan Bun, Central Kalimantan offer you to have some tour package like enjoying houseboating, floating market or Dayak tour. The facilities are included the accommodation, transportation and everything you need during your visit. The mission is to provide you all the best services that is needed and expertise…
---
Kubu Beach is located in Kubu District, West Kotawaringin Regency, Central Kalimantan Province. This beach is the fishermen area and facing of Java Ocean. This beach has white-brownish sand beach and becomes one of favorite tourism destinations in Pangkalan Bun. This place also quite good for you who wants to go into seclusion from noisy of the cities. Water on this beach colored brownish caused by peat forest near from the beach. When you are here, you can try banana boat. To enjoy it, you have to entering from entrance…
---
  Since 1994, they have spent most of their  life as field guides deep in the jungle and river of Borneo, with this years experiences also they are growing up in the fields as Wildlife and Culture tour guides, which know well about the adventure in Borneo and supported by their impressive and solid background of the team with depth and breadth of knowledge and experiences in the rain forest and animals, especially Orangutan. The teams are also have been voluntary for Orangutan for few years. Their adventures tour packages…
---
Orangutan Green Tours is one of Borneo tour agent who will help the visitors enjoy a trip to the forest and introduce the Borneo Orangutan to the visitors. OrangutanGreenTours (OGT), specially dedicated traveling to the Orangutan and Unique wildlife, indigenous people, Community and Nature conservation based tours, Eco-tourism destination around Borneo and Indonesian parks. OrangutanGreentours will lead you to Borneo homeland which known as The third largest island after Greenland and New Guinea. Borneo was cover 746,309 sq km bigger than Texas and Oklahoma combined five time the area of…
---