Butong Lake
---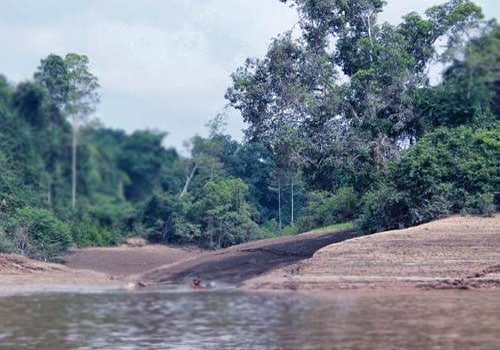 Butong Lake area is located in Butong village, Teweh Selatan district, Barito Utara regency. In this area, there is also rattan Sedatu garden which has protected as hereditary by Butong villagers. In order to preserve the lake, the people always take care of it and there is no order or rules in writing, but voluntarily keeping with overseeing indirectly anyone who enters to Butong lake area.
To keep the villagers made a rule that no development or other activities on the edge of the lake onto land along three kilometers along the lake.
Butong Lake area has biodiversity of flora and fauna. Certain types of orchids can be found in this area, also rare trees are still well preserved. Not only that, in this area there are also assorted squirrels, monkeys from small to the largest, including in this case the animals are reserved, the Orang Utan. You can also found ape nose, Bakantan and black monkey.
One reference for those who want to go to this location, is, you should first contact the Youth Group Awareness or local village chief or through the Foundation of Barito Green, for you to know exactly the condition of the lake. In rainy season, long trips using motorized boats less than half an hour, during the trip you will be enchanted by the natural beauty that you pass through.
If you want an overnight stay here, you can having negotiable with your guides and the fishermen, lanting owner in the lake. To spend the night do not forget to bring enough Sango, anti mosquito and blankets. You need to know, in the area of the lake there is no shop, it should be provided alone.

Latest News
Orangutan Tour Orangutan Tour is one of tour and travel company based on Central Kalimantan, Indonesia. Under the flag of PT. Borneo Lestari Tour and Travel, Orangutan Tour will guide you to explore Borneo with its natural beauty and culture. Located in Pangkalan Bun, Central Kalimantan offer you to have some tour package like enjoying houseboating, floating market or Dayak tour. The facilities are included the accommodation, transportation and everything you need during your visit. The mission is to provide you all the best services that is needed and expertise…
---
Kubu Beach is located in Kubu District, West Kotawaringin Regency, Central Kalimantan Province. This beach is the fishermen area and facing of Java Ocean. This beach has white-brownish sand beach and becomes one of favorite tourism destinations in Pangkalan Bun. This place also quite good for you who wants to go into seclusion from noisy of the cities. Water on this beach colored brownish caused by peat forest near from the beach. When you are here, you can try banana boat. To enjoy it, you have to entering from entrance…
---
  Since 1994, they have spent most of their  life as field guides deep in the jungle and river of Borneo, with this years experiences also they are growing up in the fields as Wildlife and Culture tour guides, which know well about the adventure in Borneo and supported by their impressive and solid background of the team with depth and breadth of knowledge and experiences in the rain forest and animals, especially Orangutan. The teams are also have been voluntary for Orangutan for few years. Their adventures tour packages…
---
Orangutan Green Tours is one of Borneo tour agent who will help the visitors enjoy a trip to the forest and introduce the Borneo Orangutan to the visitors. OrangutanGreenTours (OGT), specially dedicated traveling to the Orangutan and Unique wildlife, indigenous people, Community and Nature conservation based tours, Eco-tourism destination around Borneo and Indonesian parks. OrangutanGreentours will lead you to Borneo homeland which known as The third largest island after Greenland and New Guinea. Borneo was cover 746,309 sq km bigger than Texas and Oklahoma combined five time the area of…
---