Muara Teweh
---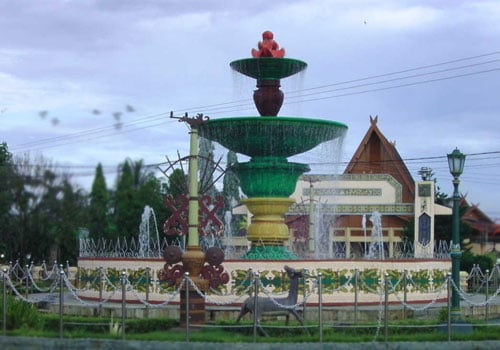 Muara Teweh town is the capital city of Barito Utara regency which mostly inhabited by Dayak Bakumpai tribe, Dayak sub-ethnis in Barito. Mostly, they are Moslem. This town surrounded by forest and elongated following the river flow. This town is the one crowd countryside in Barito river, which divide Kalimantan islnd from Banjarmasin, South Kalimantan to Murung Raya regency, Central Kalimantan.
As 'water' town, Muara Teweh presenting a unique view. In this small town, there are quite a lot of floating homes, set along the banks of Barito River. Such kind of house can be regarded as local wisdom to avoid the danger of flooding. Due to flooding in Muara Teweh generally in puddle, not a flood, so however high the flood that occurred will not drown the houses.
Along the river, visitors will also find a charming natural scenery. Watching dense and green forests of Borneo and listen to the song of the typical animals there, is a valuable experience that you cannot find in other places. By using speed boat public service, visitors can enjoy the unlimited natural scenic beauty along Barito River basin. Visitors do not need to worry about the price offered, because there is no official price for the transporter, so that visitors can neutralize. In general, the cost incurred depends on the distance desired by visitors.

Latest News
Orangutan Tour Orangutan Tour is one of tour and travel company based on Central Kalimantan, Indonesia. Under the flag of PT. Borneo Lestari Tour and Travel, Orangutan Tour will guide you to explore Borneo with its natural beauty and culture. Located in Pangkalan Bun, Central Kalimantan offer you to have some tour package like enjoying houseboating, floating market or Dayak tour. The facilities are included the accommodation, transportation and everything you need during your visit. The mission is to provide you all the best services that is needed and expertise…
---
Kubu Beach is located in Kubu District, West Kotawaringin Regency, Central Kalimantan Province. This beach is the fishermen area and facing of Java Ocean. This beach has white-brownish sand beach and becomes one of favorite tourism destinations in Pangkalan Bun. This place also quite good for you who wants to go into seclusion from noisy of the cities. Water on this beach colored brownish caused by peat forest near from the beach. When you are here, you can try banana boat. To enjoy it, you have to entering from entrance…
---
  Since 1994, they have spent most of their  life as field guides deep in the jungle and river of Borneo, with this years experiences also they are growing up in the fields as Wildlife and Culture tour guides, which know well about the adventure in Borneo and supported by their impressive and solid background of the team with depth and breadth of knowledge and experiences in the rain forest and animals, especially Orangutan. The teams are also have been voluntary for Orangutan for few years. Their adventures tour packages…
---
Orangutan Green Tours is one of Borneo tour agent who will help the visitors enjoy a trip to the forest and introduce the Borneo Orangutan to the visitors. OrangutanGreenTours (OGT), specially dedicated traveling to the Orangutan and Unique wildlife, indigenous people, Community and Nature conservation based tours, Eco-tourism destination around Borneo and Indonesian parks. OrangutanGreentours will lead you to Borneo homeland which known as The third largest island after Greenland and New Guinea. Borneo was cover 746,309 sq km bigger than Texas and Oklahoma combined five time the area of…
---