Barito Utara
---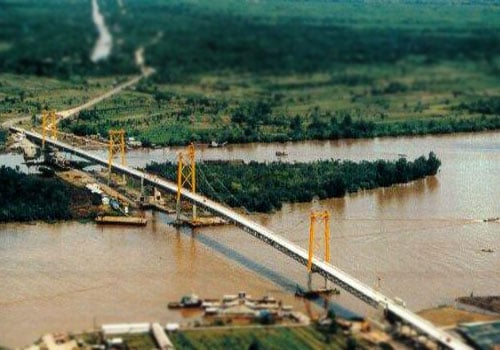 Barito Utara regency is one of regencies in Central Kalimantan, Indonesia. The capital of the district is located in Muara Teweh. North Barito can be said as a fertile area with outstanding nature contents. This area can be developed as a potential tourist destination. It is reasonable however if development policies in tourism aspect is focused on developing potential tourist attraction, whether natural tourism, culture, and history.
The potential tourist destinations to be developed are Jantur Doyan waterfall area, which is currently widely used as recreation area of Muara Teweh town residents and its surroundings. Besides, the tourists can also enjoy others natural beauty objects in Barito Utara, such as Nature Reserves or Pararawen Protected Forest, Butong Lake, Inih waterfall and lake, and Trinsing irrigation Dam.
Otherwise, because this region is known for having a lot of plateaus with mountainous rock formations, so in some places scattered natural caves which are very challenging for the adventurous traveler. You will meet Siapa Cave, Lambung Cave, Liang Pandan Cave, Liang Idai Cave, and others. While the beautiful mountains can seen in the area of Mount Lumut and Angah (Sentuyun Waterfall Benangin).
However, the peak of the real wonders of the natural scenery can be found in the nature reserve area or Forest Preserve Pararawen II. There are interesting attractions here, including various species of flora and fauna, typical of tropical forests of Borneo, and unspoiled plasma nuftah richness.
While tourism culture that spread across Barito Utara regency has artistic worth with a very high taste. Valuable cultural heritage of this region gives the typical personification diversity and high creative ability, feeling and intention of the past ancestors. The results of past cultures has social, civic, education and history value.

Latest News
Orangutan Tour Orangutan Tour is one of tour and travel company based on Central Kalimantan, Indonesia. Under the flag of PT. Borneo Lestari Tour and Travel, Orangutan Tour will guide you to explore Borneo with its natural beauty and culture. Located in Pangkalan Bun, Central Kalimantan offer you to have some tour package like enjoying houseboating, floating market or Dayak tour. The facilities are included the accommodation, transportation and everything you need during your visit. The mission is to provide you all the best services that is needed and expertise…
---
Kubu Beach is located in Kubu District, West Kotawaringin Regency, Central Kalimantan Province. This beach is the fishermen area and facing of Java Ocean. This beach has white-brownish sand beach and becomes one of favorite tourism destinations in Pangkalan Bun. This place also quite good for you who wants to go into seclusion from noisy of the cities. Water on this beach colored brownish caused by peat forest near from the beach. When you are here, you can try banana boat. To enjoy it, you have to entering from entrance…
---
  Since 1994, they have spent most of their  life as field guides deep in the jungle and river of Borneo, with this years experiences also they are growing up in the fields as Wildlife and Culture tour guides, which know well about the adventure in Borneo and supported by their impressive and solid background of the team with depth and breadth of knowledge and experiences in the rain forest and animals, especially Orangutan. The teams are also have been voluntary for Orangutan for few years. Their adventures tour packages…
---
Orangutan Green Tours is one of Borneo tour agent who will help the visitors enjoy a trip to the forest and introduce the Borneo Orangutan to the visitors. OrangutanGreenTours (OGT), specially dedicated traveling to the Orangutan and Unique wildlife, indigenous people, Community and Nature conservation based tours, Eco-tourism destination around Borneo and Indonesian parks. OrangutanGreentours will lead you to Borneo homeland which known as The third largest island after Greenland and New Guinea. Borneo was cover 746,309 sq km bigger than Texas and Oklahoma combined five time the area of…
---