Sampit
---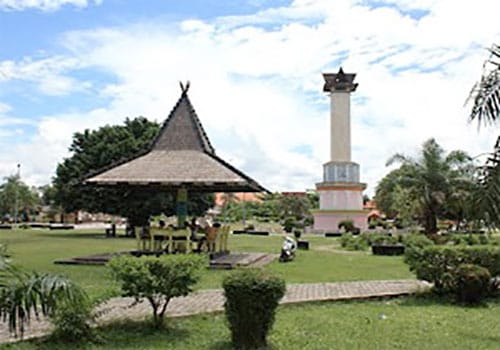 Sampit is the capital city of Kotawaringin Timur, Central Kalimantan, Indonesia. Sampit is one of the oldest settlement in Kotawaringin Timur. The city's name has been mentioned in Kakawin Nagarakertagama written on 1365 also by Banjar saga in the last part on 1163. Formerly Sampit is the largest timber port all of Indonesia because Kotawaringin is an area of timber producing forests. Sampit is a plantation area, most of the income comes from palm plantations. This area was previously a producer of timber and timber already scarce, the society and the company began to move into oil palm plantations. Geographical conditions of Sampit City is lowlands so very supportive to farm in this area. Beside to the income of oil palm plantation area is also derived from fish, rubber and coal mines. Sampit's population is currently about 80,000 people.
In Sampit City itself has a port that facilitates the distribution of goods on the island so it is possible for the delivery from Java Island to Kalimantan through Sampit. To the north part of Sampit City heading towards Pangkalanbun City began to area of oil palm plantations. This area was once the turf and now change into the area of the sprawling palm oil plantations.
In Sampit there are also airports named Haji Asan Airport. The location of H. Asan Airport is in the suburbs, where we want to enter Palangkaraya City and Sampit will be visible junction that leads to the airport. The road towards the airport will also be transparent to the city center of Sampit just along the edge of Mentaya River and then get to the market or city park. The existing cost of such as; Kalstar Air flight to Banjarmasin, Ketapang, Pangkalan Bun and Pontianak, while Merpati Nusantara Airlines to Jakarta and Surabaya. Flights in Sampit collaboration in local government and the airline that sometimes there are government subsidies for low-cost at Feast Day.
Sampit Tourist Attraction:
Sampit City has a large river namely Mentaya River is used for transportation. Mentaya River is a river of Sampit community pride because of extensive and long of Mentaya River, so Sampit can be referred to Mentaya City.
Tourist attractions in Sampit is Pandaran Beach that located at the mouth of Mentaya River. Other attractions are the orchid gardens at the upstream drainage area which is the end of Sampit City. There is also the famous natural attractions in Sampit, the people of Sampit often called the Blue Lake. And many tourist attractions that we can be explored more on Sampit.

Latest News
Orangutan Tour Orangutan Tour is one of tour and travel company based on Central Kalimantan, Indonesia. Under the flag of PT. Borneo Lestari Tour and Travel, Orangutan Tour will guide you to explore Borneo with its natural beauty and culture. Located in Pangkalan Bun, Central Kalimantan offer you to have some tour package like enjoying houseboating, floating market or Dayak tour. The facilities are included the accommodation, transportation and everything you need during your visit. The mission is to provide you all the best services that is needed and expertise…
---
Kubu Beach is located in Kubu District, West Kotawaringin Regency, Central Kalimantan Province. This beach is the fishermen area and facing of Java Ocean. This beach has white-brownish sand beach and becomes one of favorite tourism destinations in Pangkalan Bun. This place also quite good for you who wants to go into seclusion from noisy of the cities. Water on this beach colored brownish caused by peat forest near from the beach. When you are here, you can try banana boat. To enjoy it, you have to entering from entrance…
---
  Since 1994, they have spent most of their  life as field guides deep in the jungle and river of Borneo, with this years experiences also they are growing up in the fields as Wildlife and Culture tour guides, which know well about the adventure in Borneo and supported by their impressive and solid background of the team with depth and breadth of knowledge and experiences in the rain forest and animals, especially Orangutan. The teams are also have been voluntary for Orangutan for few years. Their adventures tour packages…
---
Orangutan Green Tours is one of Borneo tour agent who will help the visitors enjoy a trip to the forest and introduce the Borneo Orangutan to the visitors. OrangutanGreenTours (OGT), specially dedicated traveling to the Orangutan and Unique wildlife, indigenous people, Community and Nature conservation based tours, Eco-tourism destination around Borneo and Indonesian parks. OrangutanGreentours will lead you to Borneo homeland which known as The third largest island after Greenland and New Guinea. Borneo was cover 746,309 sq km bigger than Texas and Oklahoma combined five time the area of…
---