Balanga Museum
---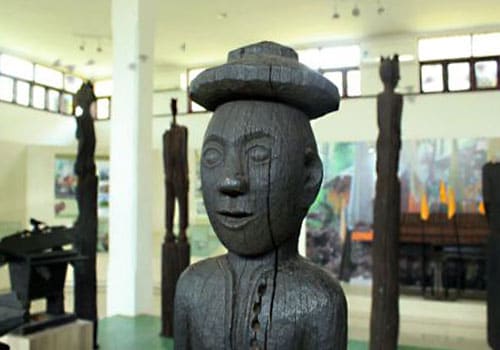 Balanga Museum is a museum located in Palangkaraya city, Central Kalimantan province, Indonesia. Balanga Museum is located at Jalan Tjilik Riwut, only about 2.5 km from the Bundaran Besar. If you do not use private vehicles, public transport is also very easy.
The existence of Balanga Museum is not widely known by the public. Even the people of Central Kalimantan itself many still do not know about the existence of this museum, but the museum since 1973. Established by the Government of Central Kalimantan, initially as a regional museum. In line with central government policy that every province has a museum showcasing the uniqueness of the local culture and natural resources, then in 1990 Balanga Museum became a museum province.
Balanga Museum has different types of collections of material culture (cultural objects) are grouped into collections of ethnographic, historical, archeology, keramologic, numismatic and heraldic. While natural objects grouped into collections Biological and geological. The museum collection on display in the second portion of the building as a permanent exhibition, the rest laid out in collection.
When you enter the exhibition space then you will feel the atmosphere of traditional life of the Dayak. Collection organized on the life cycle, starting from the equipment phase ceremonies of birth, marriage and death final. Guides will not forget to tell you about the uniqueness of Tiwah ceremony. Here you will see the uniqueness of traditional weapons such as Chopsticks, Duhung, Mandau, miniature longhouse called Betang, tool inviter fish called Mihing, sculpture Sapundu and Hampatung Karuhei, fetish Penyang, miscellaneous goods brass, various jars of ceramics from China of the Ming and Ching dynasty called Balanga and Malawen plate. There are still many other unique collections.
Museum Balanga also received about a thousand pieces of confiscated weapons used when ethnic conflict in Sampit in 2001 as a historical collection.
How to get there:
Balanga Museum is located at Jalan Tjilik Riwut KM 2.5 with an area of approximately 5 hectares. The museum is located in the city of Palangkaraya and easy to visit because it is opened every day from 8:00 to 12:00 pm, and there is an attendant guides.

Latest News
Orangutan Tour Orangutan Tour is one of tour and travel company based on Central Kalimantan, Indonesia. Under the flag of PT. Borneo Lestari Tour and Travel, Orangutan Tour will guide you to explore Borneo with its natural beauty and culture. Located in Pangkalan Bun, Central Kalimantan offer you to have some tour package like enjoying houseboating, floating market or Dayak tour. The facilities are included the accommodation, transportation and everything you need during your visit. The mission is to provide you all the best services that is needed and expertise…
---
Kubu Beach is located in Kubu District, West Kotawaringin Regency, Central Kalimantan Province. This beach is the fishermen area and facing of Java Ocean. This beach has white-brownish sand beach and becomes one of favorite tourism destinations in Pangkalan Bun. This place also quite good for you who wants to go into seclusion from noisy of the cities. Water on this beach colored brownish caused by peat forest near from the beach. When you are here, you can try banana boat. To enjoy it, you have to entering from entrance…
---
  Since 1994, they have spent most of their  life as field guides deep in the jungle and river of Borneo, with this years experiences also they are growing up in the fields as Wildlife and Culture tour guides, which know well about the adventure in Borneo and supported by their impressive and solid background of the team with depth and breadth of knowledge and experiences in the rain forest and animals, especially Orangutan. The teams are also have been voluntary for Orangutan for few years. Their adventures tour packages…
---
Orangutan Green Tours is one of Borneo tour agent who will help the visitors enjoy a trip to the forest and introduce the Borneo Orangutan to the visitors. OrangutanGreenTours (OGT), specially dedicated traveling to the Orangutan and Unique wildlife, indigenous people, Community and Nature conservation based tours, Eco-tourism destination around Borneo and Indonesian parks. OrangutanGreentours will lead you to Borneo homeland which known as The third largest island after Greenland and New Guinea. Borneo was cover 746,309 sq km bigger than Texas and Oklahoma combined five time the area of…
---