Hotels In Central Kalimantan
---
Rimba Orangutan Eco Lodge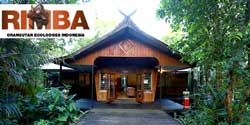 Situated on the edge of the Sekonyer River, surrounded by forest. Access is only by boat (klotok) two hours from the Port of Kumai. The timber Lodge is built in a series of adjoining elevated pavilions. Five pavilions contain 3 rooms and have their own covered verandah and boardwalk to the river's edge. There are 20 more rooms in one large pavilion at one side off the lodge. All 35 rooms have air conditioning, fans and hot water. The front rooms are currently of two types Diamond (3) and Emerald (12). The 20 other rooms are Amethyst. Sungai Sekonyer, Taman Nasional Tanjung Puting, Kumai, Pangkalan Bun.
Kotawaringin Barat, Central Kalimantan
Indonesia
Phone: +361 4719383
Web: www.rimbaecolodge.com
Hotel NEO Palma Palangka Raya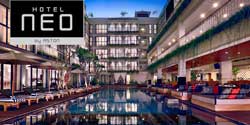 Adjacent to the city's modern shopping mall, Hotel NEO Palma Palangka Raya is a welcoming business and pleasure property providing a cool design and affordable accommodation for any traveler. The hotel can be reached within 15 minutes from the Tjilik Riwut airport, presenting 101 rooms, superior service and high quality amenities that are typically unheard of in other budget hotels, including 3 modern meeting rooms & 1 Ballrooms for business matters, comfortable and trendy accommodation, a fine restaurant, ultra high-speed internet and, above all, quiet and attentive service.
Jl. Tjilik Riwut Km. 1 No. 1, Bundaran Besar, Palangka, Jekan Raya
Palangka Raya, Central Kalimantan 73112
Indonesia
Phone: +62 5363239888
Web: www.neohotels.com
Amaris Hotel Palangkaraya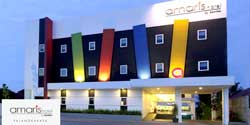 Located near Sungai Kahayan, in the heart of the city's government and commercial district, Amaris Hotel Palangkaraya has 63 Smart Rooms, and is the perfect choice for young business professionals seeking affordable accommodation and cool design. The hotel's casual, multi-purpose lobby is the perfect environment for guests to work, socialize, and relax. At Amaris hotels, our guests enjoy the comfort of a clean, crisp, Smart room with ultra-stylish design and cutting-edge LCD TV - all without having to pay more for the privilege.
Jalan S Parman No. 60A
Palangka Raya, Central Kalimantan 73112
Indonesia
Phone: +62 536 322 3888
Web: amarishotel.com/amaris-palangkaraya
Swiss-Belinn Pangkalan Bun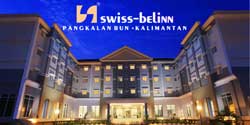 The first 3-star international hotel in Pangkalan Bun - the west of Central Kalimantan. Strategically located in the heart of the city, the hotel is only 30 minutes from Kumai Harbour and around 20 minutes from Iskandar Airport. Swiss-Belinn Pangkalan Bun offers exquisite facilities and services. Featuring 93 well-appointed guestrooms incontemporary design including non-smoking and specially appointed rooms for the disabled, the hotel is ready to welcome both business and leisure travellers.
Jl. Ahmad Yani Km. 2, Pangkalan Bun, Baru, Arut Sel.
Kotawaringin Barat, Central Kalimantan 74113
Indonesia
Phone: +62 532 27888
Web: www.swiss-belhotel.com

Latest News
Orangutan Tour Orangutan Tour is one of tour and travel company based on Central Kalimantan, Indonesia. Under the flag of PT. Borneo Lestari Tour and Travel, Orangutan Tour will guide you to explore Borneo with its natural beauty and culture. Located in Pangkalan Bun, Central Kalimantan offer you to have some tour package like enjoying houseboating, floating market or Dayak tour. The facilities are included the accommodation, transportation and everything you need during your visit. The mission is to provide you all the best services that is needed and expertise…
---
Kubu Beach is located in Kubu District, West Kotawaringin Regency, Central Kalimantan Province. This beach is the fishermen area and facing of Java Ocean. This beach has white-brownish sand beach and becomes one of favorite tourism destinations in Pangkalan Bun. This place also quite good for you who wants to go into seclusion from noisy of the cities. Water on this beach colored brownish caused by peat forest near from the beach. When you are here, you can try banana boat. To enjoy it, you have to entering from entrance…
---
  Since 1994, they have spent most of their  life as field guides deep in the jungle and river of Borneo, with this years experiences also they are growing up in the fields as Wildlife and Culture tour guides, which know well about the adventure in Borneo and supported by their impressive and solid background of the team with depth and breadth of knowledge and experiences in the rain forest and animals, especially Orangutan. The teams are also have been voluntary for Orangutan for few years. Their adventures tour packages…
---
Orangutan Green Tours is one of Borneo tour agent who will help the visitors enjoy a trip to the forest and introduce the Borneo Orangutan to the visitors. OrangutanGreenTours (OGT), specially dedicated traveling to the Orangutan and Unique wildlife, indigenous people, Community and Nature conservation based tours, Eco-tourism destination around Borneo and Indonesian parks. OrangutanGreentours will lead you to Borneo homeland which known as The third largest island after Greenland and New Guinea. Borneo was cover 746,309 sq km bigger than Texas and Oklahoma combined five time the area of…
---