Central Kalimantan Province
---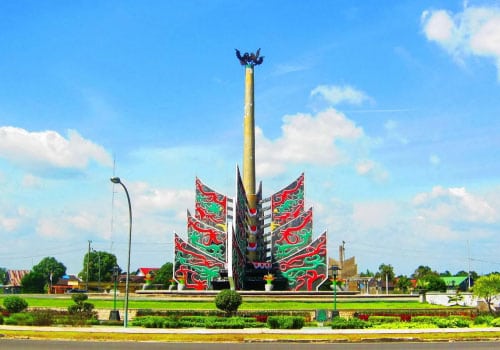 Central Kalimantan is the biggest province on Borneo island, about 253 800 km² width and its territory is mostly forest. The northern part is mountainous which are difficult to reach, the center is dense tropical forest, while the southern region is swamp with many rivers. The climate is hot and humid in Borneo. Central Kalimantan has a strategic geographical position, dealing directly with Java Sea and bordered with West Kalimantan and East Kalimantan provinces.
In this province you have the opportunity to enjoy nature tour in the exciting place. That's because Central Kalimantan is rich in natural reserves, such as in Bukit Raya and Monumental Kotawaringin Timur Forest group, Bukit Sapat Hawung in Barito Utara, and Merang in Palangkaraya. There is also a nature reserve land and sea in Kotawaringin Barat. Malau Besar Waterfall and Pauras in Barito Utara, Tangkiling in Palangkaraya. The beautiful and natural beach in Kotawaringin Barat and Ujung Pandaran in Kotawaringin Timur.
The are more objects have not yet known, with a variety of coastal areas, mountains / hills, plains and marshes, all kind of natural tropical vegetation dominate this area. Orangutans are still endemic animals in Central Kalimantan, especially in Tanjung Puting National Park area which has 300,000 ha area in Kotawaringin Barat and Seruyan. There are bears, porcupines, gibbons-gibbons, macaques, macaques, proboscis monkeys, anteaters, crocodiles, lemurs, freshwater whales (tampahas), arowana, manjuhan, marine life, turtles, fleeced, hornbills, parrots and other variety animals.
The native people of Central Kalimantan is Dayak tribe. The common Dayak tribe in Central Kalimantan is Dayak Ngaju because this kind of tribe is the most dominant. Other tribes who live on the coast is Banjar Malay Beach which is fill 24.20% of population. Central Kalimantan consists of dozens, even hundreds of Dayak languages. However, in daily life, language that is often used is Dayak Ngaju, Dayak Maayan, Dayak Kapuas, Javanese and Banjar language.
Dayak tribe known as "Rumah Betang" a large mansion which occupied by several families for generations. That's why they are very close and became the dominant element of the sustainability of this unique culture.
Central Kalimantan offers you the experience memorable tour of nature, culture, arts, and culinary.

Latest News
Orangutan Tour Orangutan Tour is one of tour and travel company based on Central Kalimantan, Indonesia. Under the flag of PT. Borneo Lestari Tour and Travel, Orangutan Tour will guide you to explore Borneo with its natural beauty and culture. Located in Pangkalan Bun, Central Kalimantan offer you to have some tour package like enjoying houseboating, floating market or Dayak tour. The facilities are included the accommodation, transportation and everything you need during your visit. The mission is to provide you all the best services that is needed and expertise…
---
Kubu Beach is located in Kubu District, West Kotawaringin Regency, Central Kalimantan Province. This beach is the fishermen area and facing of Java Ocean. This beach has white-brownish sand beach and becomes one of favorite tourism destinations in Pangkalan Bun. This place also quite good for you who wants to go into seclusion from noisy of the cities. Water on this beach colored brownish caused by peat forest near from the beach. When you are here, you can try banana boat. To enjoy it, you have to entering from entrance…
---
  Since 1994, they have spent most of their  life as field guides deep in the jungle and river of Borneo, with this years experiences also they are growing up in the fields as Wildlife and Culture tour guides, which know well about the adventure in Borneo and supported by their impressive and solid background of the team with depth and breadth of knowledge and experiences in the rain forest and animals, especially Orangutan. The teams are also have been voluntary for Orangutan for few years. Their adventures tour packages…
---
Orangutan Green Tours is one of Borneo tour agent who will help the visitors enjoy a trip to the forest and introduce the Borneo Orangutan to the visitors. OrangutanGreenTours (OGT), specially dedicated traveling to the Orangutan and Unique wildlife, indigenous people, Community and Nature conservation based tours, Eco-tourism destination around Borneo and Indonesian parks. OrangutanGreentours will lead you to Borneo homeland which known as The third largest island after Greenland and New Guinea. Borneo was cover 746,309 sq km bigger than Texas and Oklahoma combined five time the area of…
---