Kapuas
---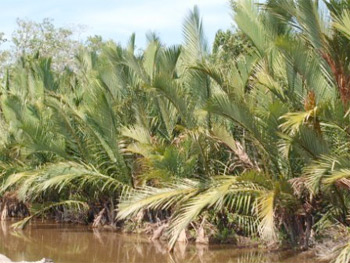 KAPUAS HULU RIVER
This Kapuas Hulu river path is very compatible for tourism adventure by using rubber boat or other boat types. It is along the length of this river there are some Riam fruits with extent of its river stone in so many its forms. In left and right of the river there is the trees, which inhabited various fauna types.
CEMARA LABAT BEACH
This beach unfolds in Java Sea coastal area with approximately length 5 km that being under the aegis of coconut trees and mangrove tree, so it has beautiful scenery and interesting. The condition of the beach is gradient and waved. This beach is located in south side of Kuala Kapuas in Cemara Labat village, Kapuas Kuala district.
UP THE RIVER OF KAHAYAN
There are many long houses which are found at the Kahayan river mouth become an interesting scenery. The long wooden boats become the backbone of the inter-village transportation. The upstream journey by Klotok boat (long boat) along the Kahayan River has its own challenge. This river is indeed not so widely known, if compared with Kapuas River (600 kilometers) and Barito River (500 kilometers). Like the big rivers in Kalimantan, this river has been the source of subsistence of the population for thousands years, from which they would hunt, fish and collect foods and other forest products (such as bee wax, hornbills ivory, rattan cane, resin and camphor).

Latest News
Kubu Beach is located in Kubu District, West Kotawaringin Regency, Central Kalimantan Province. This beach is the fishermen area and facing of Java Ocean. This beach has white-brownish sand beach and becomes one of favorite tourism destinations in Pangkalan Bun. This place also quite good for you who wants to go into seclusion from noisy of the cities. Water on this beach colored brownish caused by peat forest near from the beach. When you are here, you can try banana boat. To enjoy it, you have to entering from entrance…
---
  Since 1994, they have spent most of their  life as field guides deep in the jungle and river of Borneo, with this years experiences also they are growing up in the fields as Wildlife and Culture tour guides, which know well about the adventure in Borneo and supported by their impressive and solid background of the team with depth and breadth of knowledge and experiences in the rain forest and animals, especially Orangutan. The teams are also have been voluntary for Orangutan for few years. Their adventures tour packages…
---
Orangutan Green Tours is one of Borneo tour agent who will help the visitors enjoy a trip to the forest and introduce the Borneo Orangutan to the visitors. OrangutanGreenTours (OGT), specially dedicated traveling to the Orangutan and Unique wildlife, indigenous people, Community and Nature conservation based tours, Eco-tourism destination around Borneo and Indonesian parks. OrangutanGreentours will lead you to Borneo homeland which known as The third largest island after Greenland and New Guinea. Borneo was cover 746,309 sq km bigger than Texas and Oklahoma combined five time the area of…
---
Tanjung Puting is one of the natural wonders of the world. You may not believe this after you have been there only two days or three days, but after the fourth or fifth day something happens. Tanjung Puting is covered by a complex mosaic of diverse lowland habitats. It contains 3,040 km2 (or 1,174 square miles) of low lying swampy terrain punctuated by blackwater rivers which flow into the Java Sea. At the mouth of these rivers and along the sea coast are found nipa/mangrove swamps. Mangroves teem with animal…
---