Talang Mountain in Solok City, West Sumatra Province
---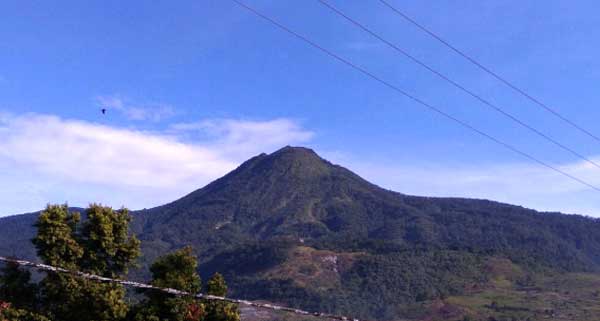 When people talk about West Sumatra Province, most of them think about delicious Rendang meat and Padang culinary. However, the region has some wonderful places to explore including Talang Mountain in Solok City. This active volcano is located near Arosuka City, which is the capital of Solok. Among local adventurers and trekkers, the mountain has become their favorite and most challenging place to explore. The trekking route is available despite the difficulty. For the information, the last eruption occurred in 2007. The fact is the volcano belongs to 4 sub-districts, including Danau Kembar, Gunung Talang, Lembang Jaya, and Lembah Gumanti Sub-District.
The Nuance
Talang Volcano resides on 2,597 above the sea level. The appearance looks majestic and it features some trekking routes to explore. The first route passes through Air Batumbuk, which is considered the easiest and suitable for beginners. The views are beautiful too, as tourists may see Kembar Lake while taking the route. For those who love challenges, in this case, they should choose another route, which is via Sileh Hill. It features difficult landscapes and tourists may meet lots of leeches along the way to the summit. Still, this route offers some unique features, including a hot spring and a small waterfall!
Exploring Talang Mountain
Tourists can do lots of things in Talang Mountain. Trekking indeed becomes the most popular thing to do! Well, as mentioned earlier, two trekking routes are available to choose from. Tourists can choose it based on the difficulty level and length, actually. Is that all? Aside from trekking, people come to Talang in order to explore Hutan Mati or the dead forest. In this area, visitors may find a famous bridge called Shiratal Mustaqim!
Hutan Mati was the result of the previous eruption. The dead trees remain and they look unique! No wonder, tourists can enjoy photography in this area. As for the bridge, it is considered small and narrow. Not to mention it is flanked by deep valleys! No one is brave enough to cross it, though. After visiting these two famous allures, tourists can enjoy sightseeing too. The most attractive view perhaps is the Kembar Lake. Don't forget to take photos of it, too, later.
The next allure in Talang Mountain is related to flora. Despite the last eruption, new plants and flowers grow in many parts of the mountain. These colorful flowers beautify the site, therefore. The most common plants to see are tea, Nepenthes, and cantigi. Not to mention edelweiss grows abundantly there! Next, tourists are recommended to enjoy camping! The best camping spot to choose, in this case, is in Cadas. The locals call it R54 spot. Later, in the morning, everyone can see the soothing sunrise, as well!
Nearby Attractions

Jembatan Gantung Jawi-Jawi
Sarasah Aie Abueh Waterfall
Timbulun Waterfall
How to Get There
First, everyone should reach the capital of West Sumatra Province (Padang City). From Jakarta, tourists only need to take an airplane at Soekarno – Hatta International Airport and head to Minangkabau Airport. This flight won't take more than 2 hours, in fact. From Padang, they can simply take Selayo – Padang Street and head to Solok right away. This trip may take around 2 hours and 15 minutes, as the distance is 80 km. After arriving at Solok, they should take Raya Solok – Padang Street and head to Talang Mountain. The distance is 21.1 km, so the trip would take around 38 minutes.
Where to Stay

Taufina Hotel
Caredek Hotel