Cambai Hill in Solok City, West Sumatra Province
---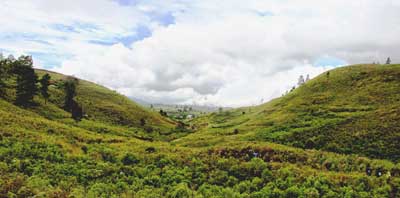 Trekking and sightseeing are the best combinations to enjoy nature during holidays. In Solok City of West Sumatra Province, in this case, tourists should head to Lembah Gumanti Sub-District where Cambai Hill resides. The exact location is in Sungai Nanam Village and it has become a recommended place to enjoy hiking, relaxation, sightseeing, and photography. Due to the excellent landscape and splendid panorama, the hill is even known internationally! The popularity is the same as Kembar Lake, Gagauan, and Singkarak Lake, for sure. Thus, everyone should not miss it when visiting Solok City later.
The Nuance
There must be many reasons why Cambai Hill is known among both locals and foreigners. Both the nuance and scenery are amazing, after all. The most noticeable feature is the presence of passion fruit plantations. The hill also comes with a vast weeds field. In terms of size, the hill resides on 1900 meters above the sea level. The location is between Danau Kembar and Lembah Gumanti Sub-District, so tourists are able to witness. The hill is even surrounded by various views on all sides! Thus, tourists won't feel bored up there.
Exploring Cambai Hill
An exploration and trekking become the prime activities to do in Cambai Hill. In order to reach the summit, though, tourists should spend a long trip. It can be done either by walking or riding a trail motorcycle. Have no worries. After arriving at the gate, tourists only need to walk for about 500 meters. Moreover, visitors can find several small rest areas along the way to the top of the hill. In terms of difficulty, it is moderate with a slope of about 45 degrees. The route also comes with chunks of gravel, so everyone must wear comfy footwear while trekking.
Despite the tiredness, tourists can relieve it once arriving at the top of Cambai Hill. Aside from the refreshing air, the hill provides them with amazing panoramas. For instance, 4 lakes can be seen clearly from above with hills that surround them. From a viewing post, tourists should face east to see Diatas Lake. For the information, this viewing post has a height of about 6 meters. Right in front of the viewing post, tourists can see Dibawah Lake and Talang Lake! Moreover, Singkarak Lake is also visible, as long as there is no fog.
Aside from lakes, visitors can witness other beautiful panoramas too. These include mountains like Merapi, Talang, Kerinci, and Singgalang! Plus, the vast local settlements look soothing on the horizon. At special times, especially in early morning and afternoon, tourists can also witness either sunrise or sunset. Not to mention tourists would see local plantations! All of these panoramas are worth a photo shot, without a doubt!
Nearby Attractions

Kembar Lake
Talang Lake
Gumanti Valley
How to Get There
Before heading to Cambai Hill, everyone should reach Padang City (the capital of West Sumatra Province) first. From Jakarta City, in this case, they can take an airplane at Soekarno – Hatta International Airport and head to Minangkabau International Airport. This flight only takes around 1 hour and 40 minutes. After arriving at Padang, they should head to Solok City by taking Selayo – Padang Street. The distance is 80 km, so the trip may take around 2 hours. From Solok, they can directly head to the hill by taking Solok – Danau Kembar Street. This trip may take around 1 hour and 12 minutes, as the distance is 30.7 km.
Where to Stay

Tapanca Hostel
Fiada Nafi Inn
Hayati Resort