Singkarak Lake in Solok City, West Sumatra Province
---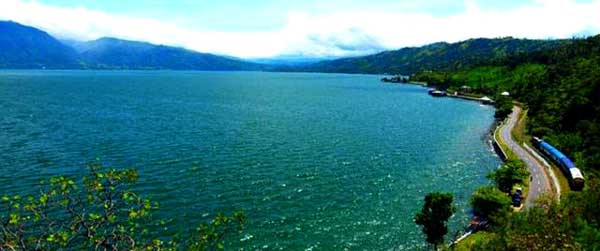 Solok City belongs to West Sumatra Province and it is bordering with Padang City. Well, in terms of tourism, visitors would find the most famous destination called Singkarak Lake. Here is the fact. The lake resides between Tanah Datar Regency and Solok. Thus, those who live in these regions are quite familiar with it. These days, in fact, outsiders and tourists start revisiting the lake for different reasons. Some of them want to enjoy the beautiful lake panorama, while others want to conduct photography and family recreation. Here is more information about the lake.
The Nuance
The nuance is considered serene despite the high number of visitors. In terms of size, Singkarak Lake has a total area of about 107.8 km per square. No wonder, it becomes the second biggest lake in Sumatra Island after Toba Lake. According to the locals, the depth is around 268 meters! The lake is surrounded by various landscapes including lush trees, roads, local houses, bushes, etc. The surface of the water looks calm and becomes a nice background for photography, as well. Thus, everyone must not forget to carry a camera during the visit.
Exploring Singkarak Lake
So, what can tourists do in Singkarak Lake? There would be many. Despite the depth, the lake is safe and suitable for swimming! For kids, though, they must get the parents' supervision when swimming. As an alternative, visitors can rent a boat and get around the lake comfortably. The fee may increase during holidays and weekends, though. So, tourists must prepare more money at those times. Also, this activity should be done along with friends or family members, for the best experience.
The next recommended thing to do in Singkarak Lake is fishing. In this case, tourists should carry their fishing rod and baits. They won't find rental services in that area, after all. As an alternative, it is recommended to approach local fishermen who often work on the lake. It is even possible to ride a boat and catch fishes with them! What tourists need is a good negotiation skill. This must be done at the right time as well. According to the locals, the best time is in the afternoon.
What is more? Singkarak Lake also becomes a favorite location to collect beautiful photos! This can be done regardless of the time, in fact. The reason is the lake offers a different ambiance regarding the time of the visit. For the information, the lake also becomes the home of lots of species of fishes!
Nearby Attractions

Paralayang Malalo
Tepian Endah Permai
Puncak Thailand
Teletubbies Hill
Singkarak Harbor
How to Get There
From Jakarta, tourists can take an airplane at Soekarno – Hatta International Airport and head to Padang City. After arriving at Minangkabau Airport, they should take Selayo – Padang Street and head to Solok City. This trip usually takes around 2 hours and 15 minutes, as the distance is 80 km. From Solok, tourists can take Dr. Hamka Street and visit Singkarak Lake right away. the distance is 26.6 km, so this trip would take about 45 minutes.
Where to Stay

Singkarak Sampur Hotel
Meuthia Hotel