Liki Tea Plantation in Solok City, West Sumatra Province
---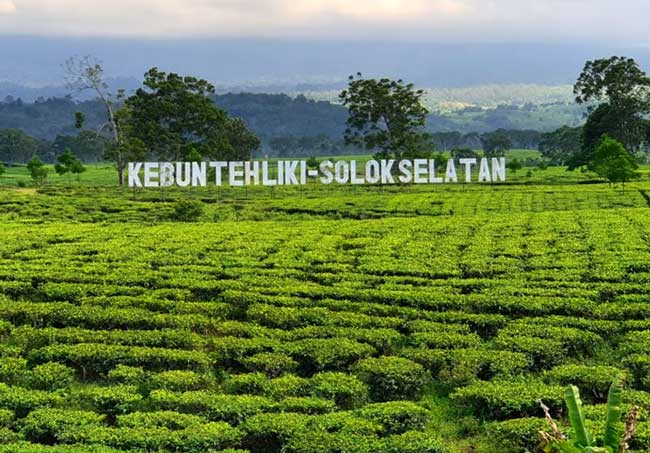 Solok City of West Sumatra Province has become more popular these days among tourists and outsiders. It is because the region holds lots of serene natural attractions, especially highlands. It even features some nice tea plantations to explore! Aside from Alahan Panjang, another recommended place to visit is indeed Liki Tea Plantation. This one is located in South Lubuk Gadang Village and belongs to Sangir Sub-District. For the information, this area resides along the way before entering Padang Aro City. Like its sibling, this one is suitable for exploration, sightseeing, relaxation, and photography. Visitors can also learn more regarding history and enjoy a cup of tea during the visit.
The Nuance
Once arriving at Liki Tea Plantation, tourists may see a dominant green landscape directly. While heading to the location, they may notice a majestic mountain too! The name is Kerinci Mountain. Here is the fact. The plantation resides between 600 and 1100 meters above sea level. That means the landscape varies and offers a different ambiance. In terms of size, it is around 2,000 hectares! No wonder, Liki is considered the biggest tea producer in South East Asia!
Exploring Liki Tea Plantation
The most common thing to enjoy in Liki Tea Plantation is relaxation. Visitors can simply explore the fields while enjoying the nuance. Still, the best time to visit is in the morning. At the time, the air feels fresher and more farmers are seen on the site. While exploring the tea plantation, tourists can also enjoy photography. After all, many interesting objects are available to capture. These include the tea fields, Kerinci Mountain, local farmers, etc. As for photography, this can be done either in the morning or afternoon for the best nuance.
The next thing to do in Liki Tea Plantation is to learn history. In this case, tourists can either ask villagers or employees who work on the site. In a nutshell, this area is considered the biggest producer of green tea. It also produces some special varieties like red, white, and black tea. Those who are interested in this commodity would be able to acquire good information during the visit, therefore.
Liki Tea Plantation also features an inn owned by Mitra Kerinci ltd. The location is near to the tea processing factory! It is recommended to rent a room and spend several days there. After all, tourists can visit the factory and watch the procedure directly. Later, before going home, they can also enjoy some kinds of tea beverages and buy some products at a cheaper price!
Nearby Attractions

Aia Malanca
Twin Falls
Kupitan Waterfall
How to Get There
For outsiders, it is quite recommended to take an airplane when heading to the capital of West Sumatra Province (Padang City). Here is an example. A flight from Jakarta City (Soekarno – Hatta International Airport) to Minangkabau Airport would take around 1 hour and 40 minutes. From Padang, tourists should take Selayo – Padang Street and head to Solok City right away. The distance is 80 km, so the trip may take around 2 hours and 15 minutes. From Solok, the next destination is South Lubuk Gadang Village where Liki Tea Plantation resides. The best route to take is Padang – Surian Street and the distance is 135 km. This trip, therefore, would take around 3 hours and 51 minutes.
Where to Stay

Rita Homestay
Pesona Alam Hotel