Gobah Peak in Solok City, West Sumatra Province
---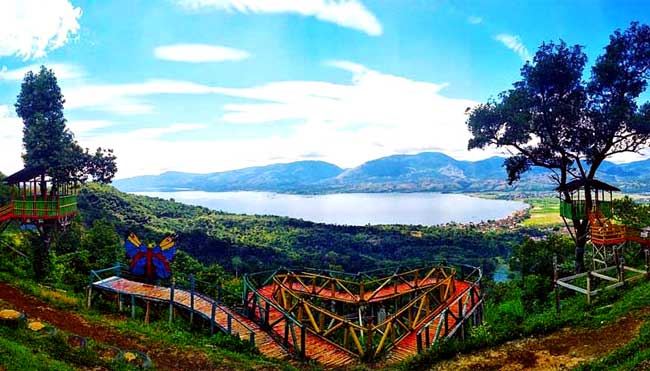 Several beautiful highlands make Solok City well known among tourists. That means visitors can simply explore those places and enjoy fun activities like sightseeing, photography, and trekking. Here is the reference. The name is Gobah Peak. The locals often call it Puncak Gobah, actually. The location is in Singkarak Village and it belongs to X Koto Singkarak Sub-District. As people may expect, the location is located near to Singkarak Lake. The popularity is definitely similar to Puncak Gagoan and Ahmad Sadin. However, what makes it different than others? Here is further information about the site.
The Nuance
In terms of panorama and nuance, Gobah Peak offers several similarities to others. It has the view of the famous Singkarak Lake and nearby mountains. As for the difference, the first noticeable one is the facility. Gobah is considered a new vacation area, so the condition is superb. It also comes with several facilities like wooden bridges and tree houses. On the horizon, tourists may see hills and mountains. Plus, the beautiful lake, farms, and local settlements are seen clearly from up there.
Exploring Gobah Peak
The best time to visit Gobah Peak is indeed during the good weather. The purpose is to get clear views from up there. As for the best spot, it is none other than the tree houses. At this area, tourists can simply stand on the wooden bridge and conduct sightseeing. It is also recommended to carry a camera to enjoy photography. The views of lake, mountains, hills, farms, and villages would be a great background for photos! Once again, it is recommended to enjoy photography only during good weather.
Gobah Peak offers more than tree-houses and splendid panoramas. For example, it becomes a recommended site to conduct paragliding. However, tourists need both bravery and skills to do so. Not to mention they must spend some money to pay for the service. Once fulfilling all the requirements, they are able to cross Singkarak Lake by paragliding. In terms of safety, it is considered nice. Thanks to the presence of professional instructors.
What is next? People also often come to Gobah Peak to conduct pilgrimage. However, it only happens during special times or local ceremonies. Next, the site offers kid's playground and outbound facilities like flying fox! Thus, visitors should not miss the chance to try these. For a more fun experience, tourists should spend more money to enjoy motor-crossing! Is that all? Located near to that area, tourists may find several local eateries too. They can buy some snacks, foods, and drinks while resting, therefore.
Nearby Attractions

Aripan Tree House
Singkarak Harbor
Cinangkak Piek
Angin Berembus
How to Get There
From Jakarta, tourists must take an airplane at Soekarno – Hatta International Airport and head to Padang City first. This flight may take around 1 hour and 40 minutes or less. Once they arrive at Minangkabau Airport, they must take Selayo – Padang Street and head to Solok City right away. The distance is 80 km, so this trip may spend around 2 hours and 15 minutes. From Solok, the next trip takes Talago Pipik Data Bungo Street and the destination is Singkarak Village. The distance is 14.9 km, so this trip may take only about 33 minutes.
Where to Stay

Meuthia Homestay
Mami Hotel